Crystal Readings – with Hands of an Angel
Crystals and crystal readings are very interesting in many aspects of our lives, general use and also in many therapies. The history of the crystal is that crystals, or stones as sometimes called, have been around us since day one or even before us humans.
Another word that was used 10,000.00 years ago was amulets and the oldest amulet is Baltic Amber, and was found in Britain this was the end of the ice age. In that era jet and amber or stones were genially used as beads for their bracelets and necklaces.
They have been found in graves 4000BC in places like Switzerland and Belgium with malachite, jet and many more.
In the 12th century sapphire was for the rich as their rings of many kinds, and also the Christian church banned all amulets and stones.
About Crystals
Most crystals today are found in mines like tigers eye, opal, rose quartz and tourmaline, but there are also some unusual ways crystals or stones are made or found.
The Amber crystal is the sap of trees and can be very expensive as in line with other crystals, but did you know that desert rose crystals are made in the desert and it is rolled sand which creates this lovely rose formation.
There is also another crystal as fragile as the desert rose and that is the selenite. Both these crystals are very fragile and if used must be with care, as any water put on these crystals you will just have a heap of salt or sand.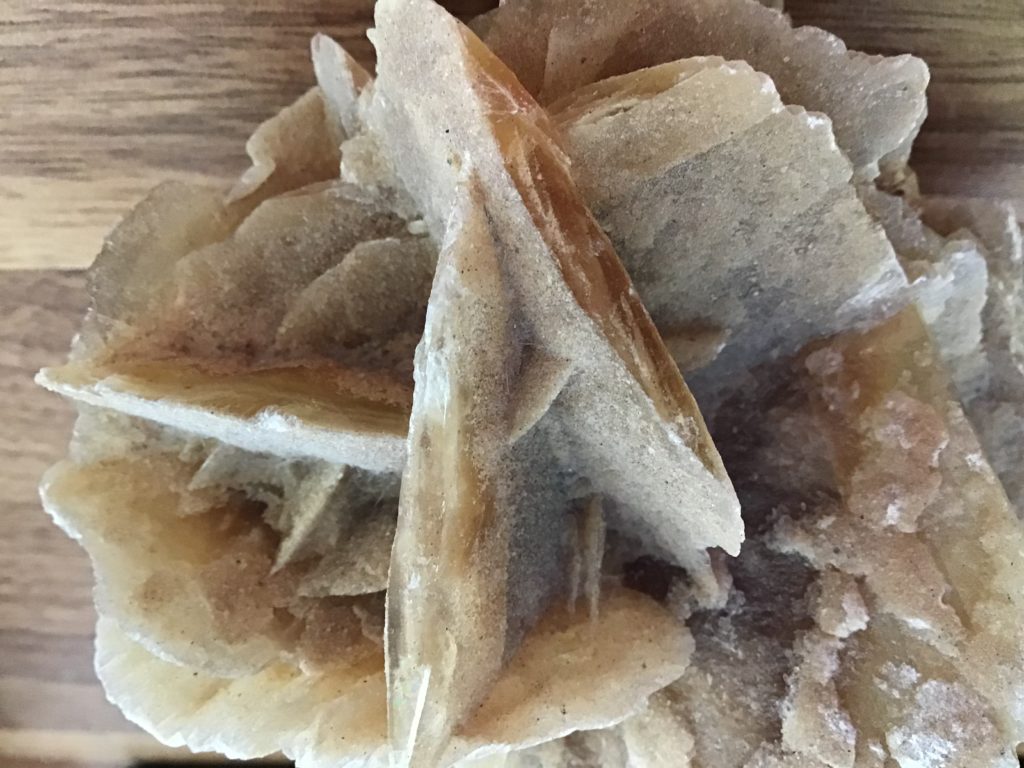 Another crystal we could put in this section is the salt rock crystal or healing crystal as some may call it. It comes in many shapes and sizes and cut away from the salt mines.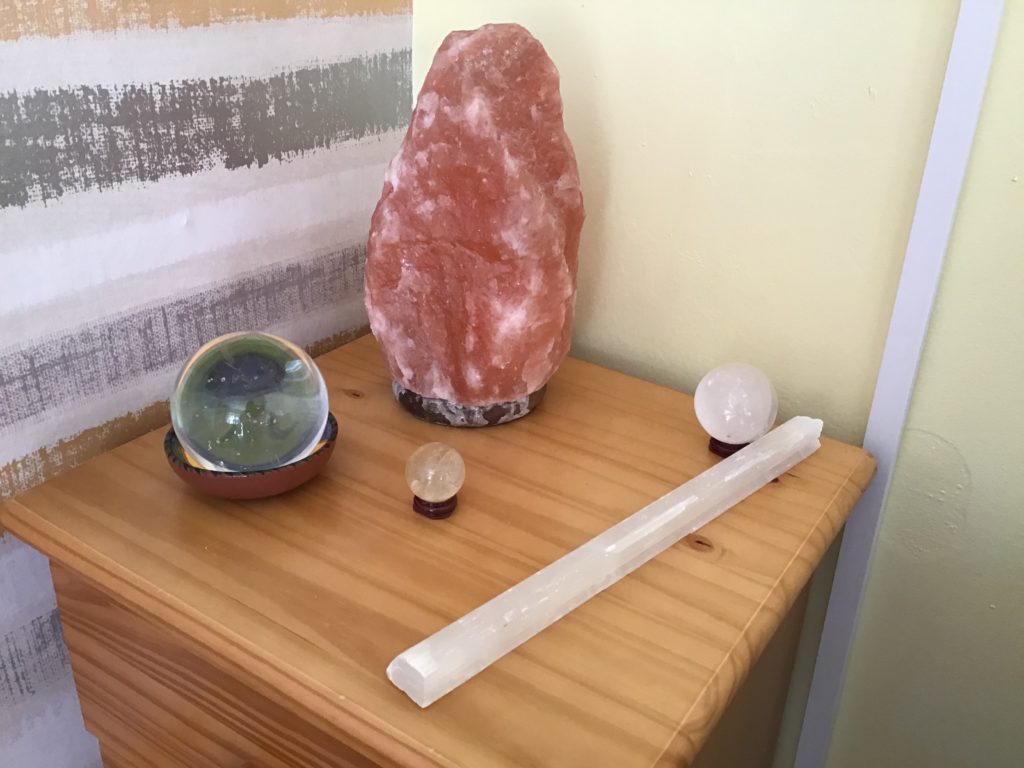 All crystals start their life as rough pieces and some stay that way depending on their use. But with most crystals we purchase, they have been tumbled and polished to make that smoothness that is easier to touch.
Crystal Therapies
Crystals are used in many therapies I.e. angelic reiki, reflexology, crystal therapies etc, and each crystal has different properties to the other one, hence so many different ones, but all have the title precious stones. The therapist will use a crystal by having you lay on a bed and placing them around you.
Grounding you as well and placed on each chakra. I don't want to go into detail with the chakras but they are the energy source that runs from the base of your spine to top of your head the colours of the chakra represents a colour and a crystal.
Crystal Colours
Red
– Base red any dark crystal I use tourmaline usually.
Orange 
– The sacral chakra is orange. So I would use carnelian.
Yellow
 – Solar plexus is yellow. I use yellow agate or Citroen.
Green
 – Heart green crystal green agate or malachite but sometimes maybe too powerful for the heart.
Blue
 – Throat chakra blue. I use a blue lace agate.
Indigo 
– The brow is indigo. I use amethyst.
Clear
 – And the last crown just above the head. I use clear quartz.
Some psychics use them with their readings, show around the home etc. And some use them for computers to take away the negative energies, in their beds to help them sleep etc and others just for show in their homes,  pockets etc.
You will also find some psychics using a crystal ball most of today's are just glass, but these can come in many sizes and colours and crystal for formation.
Pendulum Crystal
Pendulum an instrument used for positive, negative, yes or no is either string or chain with a crystal at the bottom of this. You don't have to have a crystal, these can be anything, even like a ring as long as it can move. People also sit in circles and use crystal in their hands or crystals that are shaped into palm stones.  Don't forget you can also use crystal oracle cards.
About the Crystals
ROSE QUARTZ
This is one of the gentler crystals, the love crystal. I wear mine if I have a meeting or need to have a gentler vibration around me so I can focus on the situation around me. This crystal comes only in pink can be good for relationships.
AMETHYST
The properties of this are spiritual knowledge to assist you in that line of work whether circle or to use while working with guides. The best colours for this come from Brazil.
TOURMALINE
This comes in black but recently I bought a piece of watermelon tourmaline. I love this crystal and use it a lot in my purse, handbag, on top of the front door and back door as it classed as the strong protection stone.
AGATE
This or even these crystals are in a multicolour form and all have different meanings within the colour of the crystal.   There is blue, yellow, purple, green and so on I could spend a year on this but they are all good in their own way.
CLEAR QUARTZ
This is the most common one that everyone knows. Its properties are looking into you, situations of negativity, connecting with spirit etc.
BIRTHSTONES
These are the crystals that are joined to the months of the year, so if you thinking about getting a present and feeling a bit stuck, this may be a good shout!
January – Garnet.
February – Amethyst.
March – Aquamarine.
April – Diamond.
May – Emerald.
June – Pearl.
July – Ruby.
August – Peridot.
September – Sapphire.
October – Opal.
November – Citrine.
December – Tanzanite.
Have a reading with Hands of an Angel
This is just a little taster on crystals. Have a look and ask any questions if you want to learn more!
Hands of An Angel is a Psychic Reader with Psychic Today. She can do a wide variety of readings and has many different tools that she can use to do them. Hands of an Angel has a truly delightful, uplifting energy and does not like wasting time. She is very direct and to the point. Find out more about her and have your own reading here via our website; https://psychictoday.uk/reader/4548/hands-angel
Facebook
Text FACEBOOK and your question to 65511 for your free reading! (Usually £1 per message, max 3 messages per reply. One per person. CS: call 0333 335 0297. UK Only)