Knitting Together Numerology Series
Looking At The Number 4 (four) – Stable As A Table
The number four in Numerology represents stability, security, structure and routine. Taking a table as a literal example, we can see it is stable, more so than a tripod because of that fourth leg and perpendicular structure. When four-legged animals walk, they have three of their feet on the ground at any one time, thus creating a level of stability that bipeds do not have.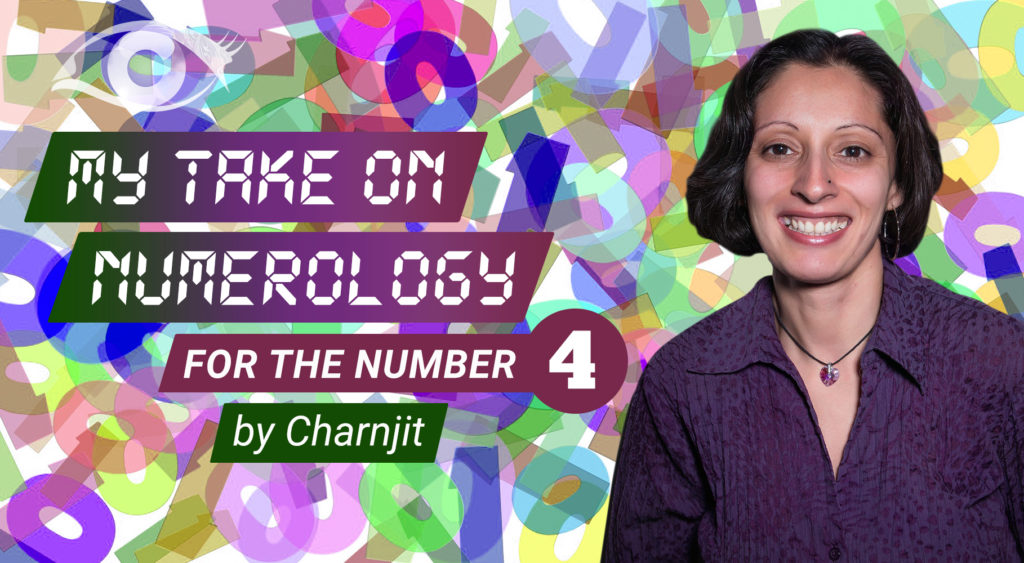 Four For Thought
Those with the number four prominent in their Numerology charts, i.e. life path, pinnacle or period cycle number tend to be the rock – reliable, stable and have a degree of neutrality and balance. They tend to the small, routine, mundane details. Not to be sniffed at, or underestimated, for it is the small everyday things that contribute to the bigger picture. I remember as a child one of my teachers saying something like, "Just imagine a world without the binmen for two weeks." That really stuck with me and I'm forever grateful to the now called refuse collectors!
Pinnacle and Cycle Number
Those with a four as their first pinnacle number (day of birth + month of birth) and to a lesser degree those with a four as their first-period cycle number (month of birth) tend to be older than their years quite fast. They take on routines and responsibilities early on in life, for whatever reason. This makes them grow up faster, often missing out on some childhood aspects of their lives. Hopefully, they get to make up for it later in life. Those with a life path 4 are made for routine, structure and stability. These are the people who are the backbone of our societies and infrastructures, making the lives of the masses more comfortable, doing the nitty, gritty little jobs over and over and over again. 
Depending on what number it is derived from shows to what degree. The challenge is not to become too rigid in their way of life. Interestingly, neighbouring numbers, just like neighbouring signs in astrology, bring a bit of complimentary, sometimes challenging but ultimately balancing energy.
So, the three says, "Hey let's grab a coffee or a cuppa and have a chat – you deserve some downtime. Let's connect and bounce some ideas off each other to make the structure even stronger".
While the five might say "You know I love what we've got so far, but I hear there's a seminar about a new piece of software out. I think we should see what it's about, be open to adapt and move with the times. It will be a challenge and an experience which we can learn from".
A little bit of what you fancy does you good sometimes – just a little bit!
Challenge Number
Those with a 4 challenge number might find a routine to be just that – a challenge! It depends on the rest of the chart. But in knowing this, if they can put certain systems and disciplines into place it can create a degree of freedom. Structured freedom. They make progress through slow and steady, tried and tested methods. Keeping some sort of journal or log may help so that it can be looked back on from time to time to show where and how tangible progress has been made, particularly when feelings arise that things not moving or growing fast enough.
Number Four in Astrology
The fourth house in western astrology is ruled by Cancer, the maternal energy. It is at the very bottom of the chart and so represents our resting place and home. This is our conscious behind closed doors energy. You get home, close your front door and boom, you're done. Downtime, private time, home time, family time, processing emotions time (different to the twelfth house which is the subconscious). Those with Cancer in their chart, whether male or female have very maternal energy.  Cancer is ruled by the moon makes sense as to why home and family life can be like an emotional rollercoaster – the moon changes signs every two or three days. Add to that the energy of the new moon, full moon, eclipses and nodal shifts… Well, never a dull moment!
Cancer is one of the four cardinal signs which are on the top/bottom, left/right axes of the chart. These are also connected with the times and seasons of the equinox and solstice.
Aries (1st house) – spring equinox
Cancer (4th house) – the summer solstice
Libra (7th house) – autumn equinox
Capricorn (10th house) – the winter solstice
The astrological signs can also be grouped into three sets of four: 
The first four being the baby/toddler signs (Aries, Taurus, Gemini, Cancer – all tend to be young at heart!) 
The second four is a bit more evolved (Leo, Virgo, Libra, Scorpio) 
The final four being the transcendental signs (Sagittarius, Capricorn, Aquarius, Pisces – spiritually aware)
Finally, there are four elements in astrology:
Fire (Aries, Leo, Sagittarius)
Earth (Taurus, Virgo, Capricorn)
Air (Gemini, Libra, Aquarius)
Water (Cancer, Scorpio, Pisces)
Number Four in Letters
The letters that represent the number four are:
D – fourth letter (4)
M – thirteenth letter (1 + 3 = 4)
V – twenty-second letter (2 + 2 =4)
Having these letters in the name can indicate attention to detail, stability, reliability, loyalty. People who like to do things by the book. Those whose name starts/ends with one of these letters like to start/complete things right and proper, adhering to rules, regulations, customs and etiquettes. They are grounded. They understand the finer and more subtle details that others may miss. Interestingly when I look at the letters D, M and V, the name Dimitri Mendeleev comes to mind – the inventor of the periodic table. He was so attentive that he spotted and made spaces for elements that had yet to be discovered but would fit into the periodic table. He knew they were there before they were there so to speak! This came to light, with several radioactive elements since being discovered, one of which is named after him – Mendelevium.
Number Four in Tarot
In tarot we have two major arcana that represent the number four:
IV – EMPEROR (control)
XIII – DEATH (change)
I also connect STRENGTH (VIII), JUSTICE (XI), TEMPERANCE (XIV) and JUDGEMENT (XX) with the four cardinal virtues fortitude, justice, temperance and prudence.
I also connect the HANGED MAN (XII) and WORLD (XXI) with the number four as both cards tend to show a person with one leg crossed, making it look like a number 4.
We have four minor arcana that represent number four:
(1) Four of cups (afterglow)
(2) Four of wands (security)
(3) Four of swords (rest)
(4) Four of pentacles (independence)
Number Four in Meditation
Using the keywords, we can create the following affirmation/meditation for number four:
I am a change agent, fully in control of my independence. I allow myself a well-earned yet temporary rest from the afterglow of a successful phase knowing I have the security, stability and support of those around me to do so.
Number Four in Chakras & Yoga
In yoga, the fourth chakra is the all-important heart chakra, also known as the Anahata chakra. This is the chakra that sits in the middle of the three lower ego chakras and the three upper universal chakras. We can demonstrate four types of love: self-love, love for others, love for the universe and unconditional love (love as a state of being).  To keep the heart chakra clear we need to be in a place of compassion and forgiveness. In relationships of any kind, upset and hurt Is resolved through forgiveness.
The one we really need to forgive first and foremost, to be super kind to, is ourselves. If we say or do something out of fear, frustration, lack of awareness, being overtired, overworked or overwhelmed, we just need to remember we are human and we are doing the best we can with what we have. We all have our moments and meltdowns. By being compassionate to yourself you can extend that love and understanding to others when they are going through a similar situation.
I associate the heart chakra with the lush green colour of Mother Earth. Venus is the planet of love associated with Taurus which is sometimes depicted as the earth mother type. Earth is an anagram of Heart.
There are four interconnected paths in yoga
Bhakti yoga (devotion)
Jnana yoga (knowledge)
Karma yoga (action)
Raja yoga (meditation)
Asanas for the Number Four
Cat pose (bidalasana)
Downward facing dog pose (adho  mukha shvanasana)
Happy baby pose (ananda balasana)
Camel pose (ustrasana)
Tabletop pose (bharmanasana)
Bird dog pose (parsva balasana)
Tree pose (vrikshasana)
The Seven Year Cycle
In our seven-year by seven-year chakra cycle, we are in our seven-year heart chakra phase between the ages of 21-28, 70-77, 119-126 and so on. We are in our "double heart" chakra energy between the ages of 24-25, 73-74 and 122-123. It speaks for itself, it's all about love. We have our second Jupiter return around the age of 24. Jupiter is the planet of fortune and abundance. Opportunities for love (people, places, things, jobs) may well be more favourable during this year.
Number Four in Everyday Life
Crossroads
Four directions: North, East, South, West
Four elements: Earth, Air, Fire, Water
Four seasons: Spring, Summer, Autumn, Winter
Four-leaf clover
Ikigai: union point of passion, profession, vocation, mission
SWOT analysis – strengths, weaknesses, opportunities, threats
Four pillars of strength – physical, emotional, mental, spiritual
Four chambers of the heart
Four lobes of the brain
Square
Right angle
2020 is a Number Four
2020 – the year at the time of writing this blog is a universal 4 year (2 + 0 + 2 + 0 = 4). This is going to be remembered as the Covid pandemic year. Some may ask, "Well it if was a 4 year, why was there so much chaos, where was the structure and order?" Well, I have thought about that one too! My take on it is that is the exact lesson we needed to learn this year. Not only does 2020 add up to 4, but it can also be interpreted as 40 – a high intensity 4, ten times intense in fact. Life is all about perspective. We could argue that the world has had to become more structured than it has in a long time. Lockdowns, face masks, distancing, boundaries upon boundaries. The boundaries have been put into place. 
The bigger the change, the bigger the adaptation. What number represents that? The next one in the series, number 5. Also the next universal year – 2021. So maybe there is some sort of order to this universe after all. 2020 also is a double 20, a high intensity 2, higher partnerships, connecting with our higher selves to create a sense of balance, peace, prosperity, faith, hope and acceptance. Knowing that the structure of day vs night and the four seasons are still running like clockwork. Therein lies our security. Being in tune with nature can help us stay grounded, stable and structured.
Four in Quotes
"Be impeccable with your word, don't take anything personally, don't make assumptions, always do your best". ~ The Four Agreements, Don Miguel Ruiz.
"Four legs good, two legs bad." ~ Animal Farm, George Orwell. 
"Few are those who see with their own eyes and feel with their own hearts." ~ Albert Einstein
"To love oneself is the beginning of a lifelong romance." ~ Oscar Wilde
That's it FOUR Now! 
That's my interpretation for four.
I hope you enjoyed it. In the next blog in the Knitting Together Numerology Series, we'll take a look at the Number 5 (five) – All Change Please!
Love and light,
C xx
Thank You 
If you enjoyed this blog, see how things would work out for you personally by having a reading with Charnjit herself. Using your date of birth, she can tell you what to expect and what may develop for you. She can also use cards, her natural psychic senses and much more.
Download our Psychic Today App now!
The Psychic Today App, for all your psychic needs! If you haven't yet added it to your mobile phone yet, you can do so by following our links here: 
To download from the App Store click here
Or to download from Google Play click here 
To top up your credit or if you have any questions or queries, our friendly reception staff are available 8:00 am to 2:00 am GMT on 0333 335 0297. You must be over 18 years old to use this service, which is for entertainment purposes only. You must be the bill payer or have the bill payer's permission. We may send free promotional messages. 
Facebook
Text FACEBOOK and your question to 65511 for your free reading! (Usually £1 per message, max 3 messages per reply. One per person. CS: call 0333 335 0297. UK Only)