The L Word – What is Love? – with Hands of an Angel
I thought with Valentine's Day approaching, why not choose a word to write a blog about, to break down into separate letters. Let us see what comes from the L word – Love! But before that, let's look at how did the word love originate? Read on below!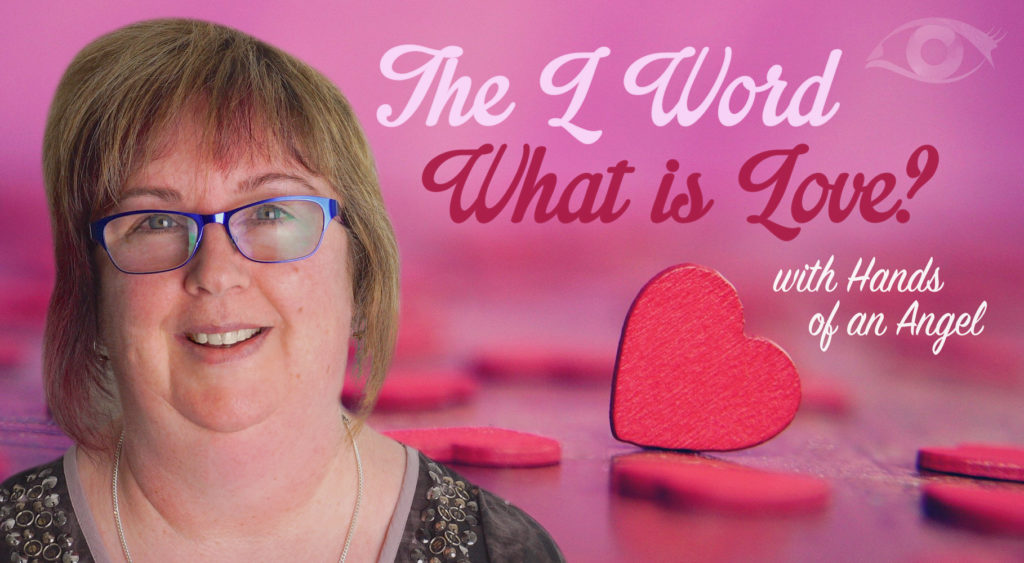 The History of the L Word
The word love was once (LEUBH). A word used by the Proto-Indo-Europeans, approximately 5000 years ago to describe care and desire. When the love was incorporated into old English, as (LUFU), it has turned into both nouns to describe deep affection and its offspring verb to be very fond of.
By the end of the 11th and throughout the 12th century is when the poets of southern France invented L Amour Courtois meaning courtly love.
Love emerged as an essential theme in a relationship between men and women. Courtly love was a brand-new idea that was supposed to be a marriage sacrament. Thus the L word emerged as an essential theme in a relationship between men and women.
What is Love in Numerology?
The LOVE in numerology comes to number 18, which is broken down to number nine by adding 1+8 = 9.
The meaning of number nine in life is emotion, generosity, compassion and strength. The number nine contains all the numbers, so it has grown from LEUNH to LOVE within the L word. 1 to 9 in numbers means that the word will always be loved as a nine is an ending to stay the same. To move to a number one a different name to start another name for love, I'll leave that to you.
The L Word in Letters
Letter L
LUST
If we look at this word, it is positive and negative, but blessed in love can be either. Do you have less love as emotions, or are you lusting for something you can't have?
LIKE or LOVE
Do you like all of the people or yourself at this moment in time? There is a massive difference. Please read the poem at the end of this workshop, and you will understand what is meant.
Letter O
OBSESSION 
Just because love may be a positive word, there are always two sides to every story black-and-white, good and bad and love or obsession. Sometimes you can get obsessed with toxic love; I say no more.
ONE and ONLY
This is like a soulmate, twin flame, the person you are meant to be with all your life. You do hear of people being together since age 14 and married for 50-60  years plus. Is this a soulmate or a twin flame as it is your one and only?
Letter V
VALENTINE 
We celebrate this once a year a day of love February 14th since the year dot. But did you know in Wales on January 25th every year we celebrate our own Welsh Valentine's Day? It is known as St Dwynwen's Day. It originates from the Celtic era.
VULNERABLE
Are you vulnerable, have you just come out of a relationship? Not learnt your lesson is, jumping from one frying pan to another. The vulnerability is you don't look back and learn lessons to move on when ready. Some people do not like to be on their own; does this make them vulnerable or needy?
Letter E
EMOTIONS
This is what we feel when we like or love someone, from the heart, head or even getting feelings.
EMBRACE
This is when we need a cuddle or embrace each other in sad and happy times and know that we are there for each other.
Enjoy Your Enjoyment!
This is what we all want in our relationships. We need to enjoy it and enjoy both of us doing the same thing as a hobby et cetera to enjoy life to the full. Below is a beautiful poem about love.
Spoken by a Buddha
I like you 
I love you
When you like a flower, you just pluck it, but when you love A flower, you water it daily.
 One who understands this poem understands life.
Lots of love as always,
Hands of an Angel xx
Have a reading with Hands of an Angel
Hands of an Angel can do a wide variety of readings and has many different tools that she can use to do them. She has a truly delightful, uplifting energy and does not like wasting time—a lady who is very direct and to the point. Please find out more about her and have your own reading here via our website right here!
You can watch Psychic Today Live!
You can watch the show LIVE between 8 am and 10 pm on Sky Channel 680 or via our website and on our YouTube page!
Download our Psychic Today Companion App now!
The Psychic Today Companion App, for all your psychic needs! If you haven't yet added it to your mobile phone, you can do so by following our links here:
To download from the App Store – click here.
Or download it from Google Play – click here.
To top up your credit or if you have any questions or queries, our friendly reception staff are available 8:00 am to 2:00 am GMT on 0333 335 0297. You must be over 18 years old to use this service, which is for entertainment purposes only. You must be the bill payer or have the bill payer's permission. We may send free promotional messages. 
Facebook
Text FACEBOOK and your question to 65511 for your free reading! (Usually £1 per message, max 3 messages per reply. One per person. CS: call 0333 335 0297. UK Only) Click on the link to our page and see our Facebook Live sessions right here!