Karmic Partners – Soulmate Connections – with Heather
It's difficult to explain Karmic Partners or to define this type of Soulmate without delving into the realms of past lives, good deeds and bad behaviour. I will try to keep this as straightforward as possible. Please read on below!
Don't forget you can watch us LIVE on television on Sky Channel 680, or via our website, PLUS our Facebook page for special Live sessions to interact with your questions for FREE with our psychics!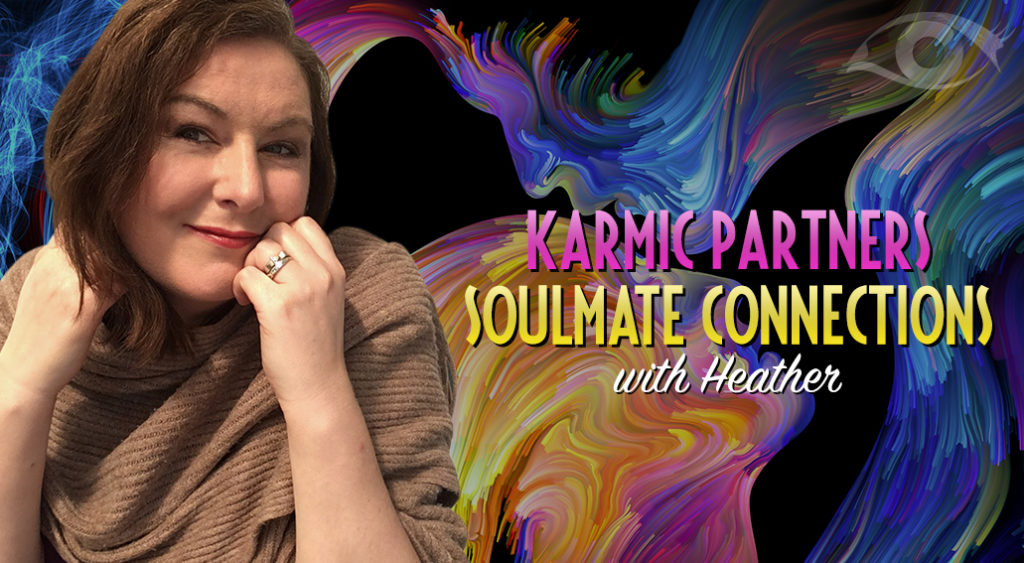 Karma
Okay, so what is Karma exactly? Well, it's a record or a tally of all the things we have done in this lifetime, plus our previous lifetimes. Try not to think of it in terms of good or bad.
It is about learning a lesson – we may feel overjoyed with some lessons and others not so much.  How we feel about the situation is personal to us, and this is where the idea of good or bad comes from. If we are feeling hard done by at the lesson's outcome – we feel as though we have been served some 'bad karma'.  
However, that one situation that didn't work out for us was there to put us on a different pathway. Karma applies to all areas of life; family, work, relationships etc., but for this blog, I am focusing on those romantic partnerships – those that don't work out; what role does Karma play?
The Wheel of Fortune
Interesting note: In the Tarot Deck, "The Wheel of Fortune" is often equated to the concept of Karma – a constantly turning wheel that will always work in your favour for your highest good and best self. But it doesn't always mean that the wheel will spin the way you want it to. 
Sometimes landing seemingly against us. Fear not; there will be a reason for that, possibly to release anything that no longer serves us and allow us to grow into our best selves. In the words of The Rolling Stones, 'You can't always get what you want, but if you try sometimes, you find, you get what you need.'
Karmic Partner
It's easy to think that a Karmic Partner will be a 'bad' influence or a 'wrong' choice, that they will mistreat us and cause us pain. As with all things, there is balance; a Karmic Partner can be a very 'good' influence. They can bring instability, boost our confidence and bring us much happiness.
Karmic Partners are people we have a past life connection with. You will meet in this lifetime to fulfil a Karmic Cycle, possibly fulfil a promise from a previous lifetime or even right a wrong.
A Karmic Partner can be with us for a short time, such as a few weeks/months, but they can also be with us for many years until that Karmic cycle has been completed. In cases where you are dealing with a Karmic Partner over many years, we can become perplexed about why this person is there.
Often, the relationship is confused with a Twin Flame connection. So let's have a look at some signs that will help you identify whether you are dealing with a Karmic Partner or not.
Karmic Signs
You will feel an attraction that pulls you towards them. This is your soul's way of identifying a person that will be significant to you in some way. You will feel as though you know this person; you may well feel some recognition as though you know them, but you can't place exactly where you know them from.
A Karmic Partner will make you feel happy initially, but you will feel like you never really 'connect'. You may try your best to become a part of their life and bring them into yours, but your efforts will be in vain.
There will be a sense that you or they are holding back part of themselves. Once you two have completed your Karmic Cycle or lessons, the connection seems to fizzle out.  
That initial attraction you felt fades away (this can happen over the course of a few weeks or months, possibly years). There will be a feeling of emptiness or loneliness when you are with your Karmic Partner. This is because your soul knows that this cycle has completed, and it's now dormant – waiting for the next lesson.
You may start to question your partners' behaviour. Small things that didn't bother you are now highlighted; you may feel as though your partner is not truthful with you, or you may no longer feel comfortable expressing yourself to them.
Perfect! Except For…
When a Karmic Partner is in our life, we may think of them as being 'perfect' – except for…  and there will be a couple of things that don't quite meet our expectations such as; if only they had their own place, why are they so close to their mother, I really like them, but I never wanted to date someone so interested in football or that has a lads night once a week etc.
We will often overlook any discrepancies in someone we're interested in because they might seem trivial (such as the football thing). But we should really be paying attention to these.
Don't get me wrong, there is always room for a lesson in tolerance, patience and understanding, but please don't lose your identity trying to fit into someone else's box.
Your Karmic Partners are there to teach you things, help you progress – but they are not there to change who you are. You are an individual on your own life journey; you are not there to be taken advantage of.
Karmic Cycle
A Karmic Partner will be easy to get over once the relationship has ended. Even if the break-up is sudden and painful, you will heal and be able to move on quickly. You may question whether your feelings for them were genuine as you can heal so easily and so fast.
You won't spend hours reflecting on the relationship because you have learned your lessons and completed that Karmic Cycle. When you think back on that relationship, you know exactly why it didn't work out, you may well remember that time you spent together with fondness, and you might even remain friends. But those early feelings you had for them are gone – never to return.
(Of course, you can fall deeply in love with a Karmic Partner; after all, you could have spent multiple past lifetimes together, and you come together with love to help one another. In a sense, all soul connections are Karmic.)
In Summary
Your Karmic Partner is there to help you transform into your best self. They are there to help you achieve your potential and reach your highest and greatest good.
If you are stuck in a Karmic Cycle with a Karmic Partner – i.e. you always break up, get back together but then repeat what caused the break-up – it is because you are not acknowledging the lesson. You can release yourself from this pattern by having a past life reading and healing session.
Thank You for Reading!
I hope you enjoyed this blog. Click here to read the introduction blog to this series! I will return soon with a new blog to explain more about Twin Flame energy!
If you would like to know more about Soulmates or Twin Flames, or even find out what type of connection you are currently in, please feel free to call a psychic at Psychic Today right here!
Love, light and happiness to you all! X
See Heather's Family Meditation!
Heather and her daughter take a moment to sit down and demonstrate a meditation suitable for all the family. Join in the mediation with your family or yourself.
Speak to one of our Psychics!
Psychic Today has a highly experienced and friendly team of Natural Psychics, all of whom can provide you with unique guidance with any dilemmas you face in life! See who is available for YOU right now!
Select the psychic of your choice for an exclusive one-to-one reading! Speak to one of our  Trusted Psychics. Plus, you can watch us live right here!
Download our Psychic Today App now!
The Psychic Today App for all your psychic needs and get psychic readings on the go! If you haven't yet downloaded it to your mobile phone, you can do so by following our links here:
To download from the App Store – click here.
Or download it from Google Play – click here.
To top up your credit or if you have any questions or queries, our friendly reception staff are available 8:00 am to 2:00 am GMT on 0333 335 0297. You must be over 18 years old to use this service, which is for entertainment purposes only. You must be the bill payer or have the bill payer's permission. We may send free promotional messages. 
Psychic Today is Here For You!
Psychic Today is on a mission to continue providing the very best psychic advice. Now we have more ways to reach our trusted psychics, we have dedicated ourselves to answering your questions.
You can ring them via our EasyCall feature, found on your chosen Psychics profile. Text our psychics through our Text Reading page. You can also send IM's directly to the live stream via our App.
We have made it easier for you to get in contact with our psychics, and they will not disappoint!