Reclaiming Yourself – with Carma
Let's strip!! Let's take all the layers off that we have been wearing since childhood. Why? Because they do not belong to us and they are outdated. To reclaim ourselves, we now need to find a new wardrobe that is more suitable and current to our true liking. It's like peeling an onion!
Yes, we may cry in parts, but we continue peeling the onion, we may reach out to get a tissue, or someone may offer us a tissue. We may even pause. However at some stage, we may continue with the process of dissecting the onion of our life, and by doing so, we give ourselves the opportunity for a new creation to emerge. Please read on below!
Don't forget you can watch us LIVE on television on Sky Channel 680, or via our website, PLUS our Facebook page for special Live sessions to interact with your questions for FREE with our psychics!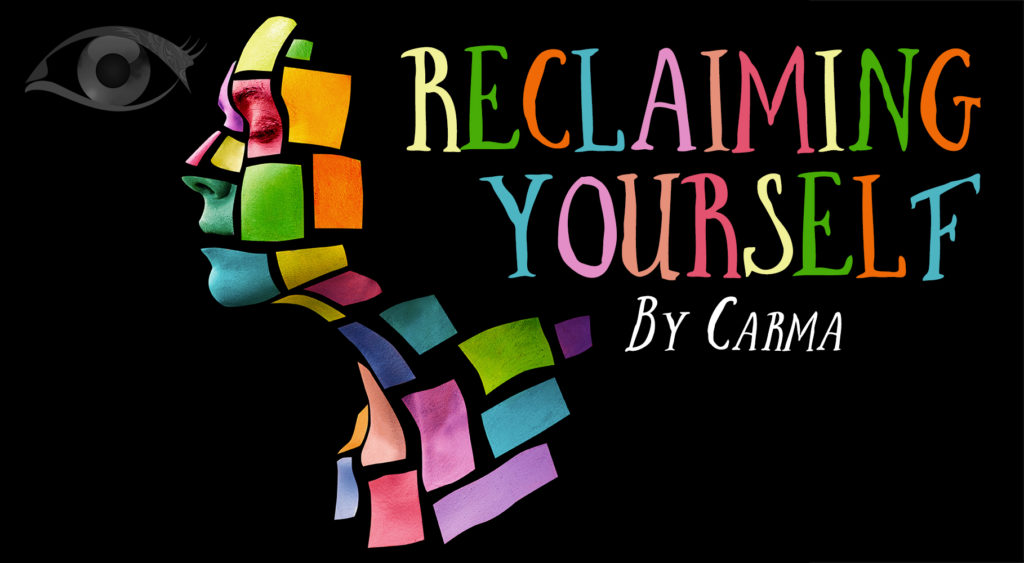 True Identity
In our early years, some of us may enjoy dressing up in our parents or carers clothes as well as enjoying/playing their roles. However, this is also when we metaphorically start trying out our parents/carers and behaviour patterns. This process creeps upon us unconsciously. There may come a time that we seek out our own true identity through exploration. When we decide to do so or not, it depends on how attached we are to familiarity and our attitude towards awareness and action.  If we wrestle with change, then the growth process will take longer to commence, if at all. Acceptance of a situation offers us a smoother ride, although it will take some time to get there. Often, we feel we have something to prove, which ultimately delays the acceptance process. The moment we let go, we feel lighter and wonder why we did not do so before.  
Interestingly, some of us say we do not want to be like our parents. However, when we are tested, we end up either behaving like them or reaching similar conclusions.  At first blush, it may not appear the same; however, we will see that the same pattern is being played out on closer inspection. It's just different facts, similar to the concept of sitting exams. In particular, past papers, as explore the same principles in many different scenarios, see if we can spot them, and this does take practice. However, when we can spot the principles in many situations, we have mastered them, and consequently, we move on because the experience no longer serves.  
Wearing a Mask
When we are illusionists or masquerading, be it intentionally or not, we are effectively wearing a mask. By doing so, we are playing a part or a role/s that is not our true self. We form an attachment to the mask because everything we believe in has contributed to our mask's creation. We essentially identify with our mask as our true self. Why? Because we do not know any different. When we are challenged, we fiercely hold on to our mask, as it is all we know, and it forms the basis of our world.
Most people will not surrender their mask unless there is a replacement, insight and preferably a better one because no man's land is unbearable. This behaviour stems from conditioned patterns that have formed habits stemming from insecurity. We are uncomfortable about ourselves, so we project a persona that we believe people will like and will make us feel confident, albeit for a period, especially to people we deem to be important.
People Pleasing
So reliance on respectability, power and status to bolster self is crucial, albeit we are giving away our real power. So, here we are, over-identifying with the outside world that is changeable. Once we lose something of significance, such as a prestigious job, we become lost because we truly do not know who we are, which greatly impacts our self-esteem. No surprise that people-pleasers are in this discussion as well as the narcissist's categories. People pleasers are chasing attention for appreciation but so are the narcissist categories; their gameplay is different. People pleasers are not looking to hurt another, well, not intentionally; however, the narcissist's category will do whatever they feel they have to.
Both are needy and are trying to fill up the hole within, so keeping up appearance becomes about survival, and this can be unconscious or conscious, or even both. However, when people-pleasers are exposed, they often habitually retreat as they are wounded. Nonetheless, they stand more chance of addressing the situation than the narcissist categories. The narcissist categories become angry and will retaliate and very often hold grudges for a very long time. These grudges are also habits, and they can even go as far back as childhood and often do. When they are challenged by trigger behaviour, they go back to their childhood memory bank and play out their habitual behaviour. Often something fundamental must occur for the possibility of a significant shift in growth to commence, if at all.  
Body Language
When meeting someone for the first time and you are not too sure about them. It is important not to get too caught up in what they are saying but instead watch their body language. Do their words mirror their behaviour? If you are receiving contradictory messages, always follow the body language. Although the mask may be beautifully made up, please do not miss the point that it is made up! Once you get behind the mask, you will see the true person in all their glory.
Therefore, they are naked, and everything is visible for all to see, flaws, insecurities, and maybe some beauty. The ones that hold on to their masks the longest believe they have a lot to lose and have invested heavily in cultivating their false image. The more convoluted their behaviour, the farther removed they are from their true self. Here, you will be dealing with a person that fabricates a lot. Quite often, they cannot tell the difference between untruths and truths as they are also manipulating themselves. Some of us rely on our instincts, gut, inner voice or intuition, especially when someone or something does not feel right. In contrast, others explore the person's motivations through questions. Especially if they feel that they are not being told complete truths or weaving a carefully crafted manipulation occurs. 
Self Awareness
By acquiring an awareness that you are wearing a mask, you are in a powerful position to do something about it. There is often an ongoing inner dialogue relating to letting go. It is easier to continue wearing the mask to a point, but the longer you wear the mask, the more empty you will feel and, consequently, the more work you will have to do to reclaim yourself.  Reclaiming self is a process, so that it will take some time. However, the biggest and the most challenging step to take is the initial letting go of the mask. By doing so, growth will find you.
Reclaiming Yourself
Once we are comfortable with our true self through exploration and acceptance, we will appreciate our uniqueness and, more so, by consistently taking action.
If ever there is a perfect time to throw your mask away and replace it with your true self, it is now. Right now, the whole world is vulnerable, which cultivates the perfect conditions for us to go within and reclaim ourselves. By doing so, we can truly blossom.    
Connect with Carma
Carma is a compassionate, warm and uplifting psychic. She is looking forward to speaking to you and giving you a psychic reading! Contact her right here!
You can watch Psychic Today Live!
You can watch the show LIVE between 8 am and 10 pm on Sky Channel 680 or via our website and on our YouTube page!
Download our Psychic Today Companion App now!
The Psychic Today Companion App, for all your psychic needs! If you haven't yet added it to your mobile phone, you can do so by following our links here:
To download from the App Store – click here.
Or download it from Google Play – click here.
To top up your credit or if you have any questions or queries, our friendly reception staff are available 8:00 am to 2:00 am GMT on 0333 335 0297. You must be over 18 years old to use this service, which is for entertainment purposes only. You must be the bill payer or have the bill payer's permission. We may send free promotional messages. 
Facebook
Text FACEBOOK and your question to 65511 for your free reading! (Usually £1 per message, max 3 messages per reply. One per person. CS: call 0333 335 0297. UK Only) Click on the link to our page and see our Facebook Live sessions right here!