The History of Colours – with Hands of an Angel
As one of Psychic Today's Colour Therapists, I have been always been fascinated with the origin of colours and their subsequent associations in life today!
The history of colours goes far back to over 2000 years. For instance, did you actually know that the primary colours are red, yellow, and blue? Let's find out more!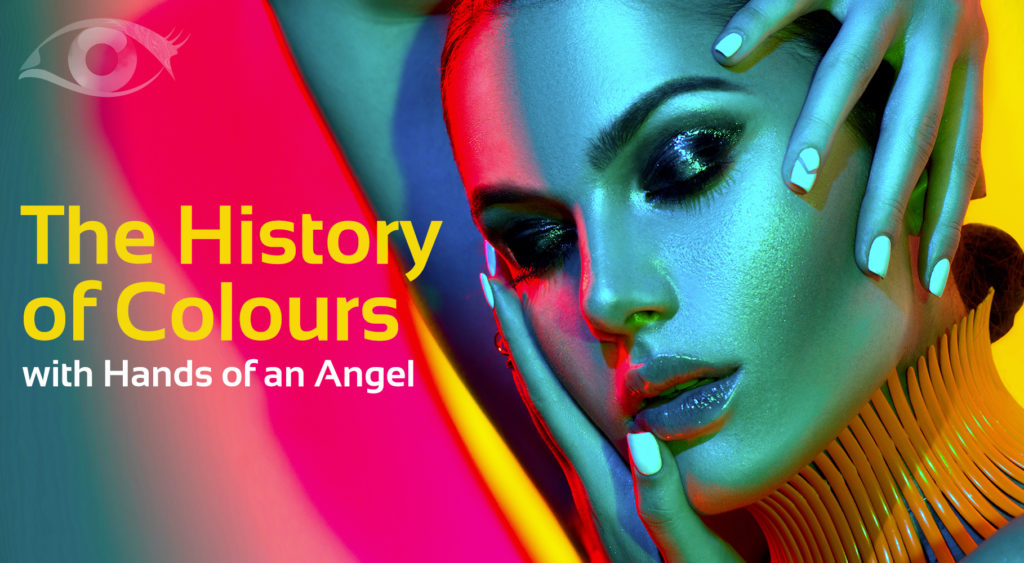 Earliest Colour Studies
One of the earliest studies and theories about colours was done by Aristotle. He discovered that combining two colours leads to the creation of a third colour.
The Greeks use colours as a scientific aspect of their lives. The Chinese use colour and practice colour healing. Known as the Nei/ching, this text dates back over 2000 years.
Isaac Newton
pioneered the field of colour. He published his first controversial paper on colours in 1672. Forty years later, he published a book called work on optics.
Colours and Their Meanings
Blue
This colour is for art, military, business and nature. In Egypt, blue pigment is derived from azurite, a mineral found in minerals.
Likewise, the sky (on a clear day, if you're lucky!) and sea are also associated with this colour, especially with uniforms for the Royal Navy and the Metropolitan Police.
In fact, there are many different shades for this colour. Hues of Blue include Cyan, which is midway between blue and green.
Red
The colour red is a symbol of vitality and celebration, yet it is also depicted as being the colour of the Devil.
Looking closer, it also has emotions ranging from strength to anger, danger and heat to love, passion and sex.
The Chinese have it as a good luck fortune of well-being and happiness. Also, certain businesses favour red, including Coca-Cola, McDonald's and Netflix.
Yellow
Yellow is the sunshine of gold. Initially, this historic and bright colour comes from the pigment of clay.
This is known as the first colour ever used in cave paintings and is used by artists such as Vincent van Gogh, who loved the vibrant colour with warmth, happiness and joy.
In certain countries, it represents cowardice, betrayal, illness. In Japan, yellow represents courage. The colour was also found in toxins. In fact, in Mexico, certain shades can mean death.
Green
Green originates from the Anglo-Saxon word grene. The meaning of grass, green is a natural colour and environment.
Western countries like Ireland have a green shamrock, four-leaf clover, and it is a lucky colour.
In fact, this colour can bring jealousy and greed and balance emotions to promote clarity and zen energies.
Orange
The Ancient Egyptians and mediaeval artists liked this colour. Under the reign of William III it was a political colour in Britain. The impression artists Cezanne and Renoir also used this colour.
In contrast, orange is a mixed colour. Light peach tones offer sweet and affordable intense, vibrant energy and encouragement. Companies that favour this colour include Amazon, Harley Davidson and Nickelodeon.
Purple
Purple is the colour that our Royal Family uses. As well as being the colour of the Holy Roman Empire and later of Roman Catholic bishops, it is traditionally associated with the imperial family in Japan.
It's hard not to think of Cadbury's chocolate when it comes to this colour! Lavender and Deep Purple again have different meanings, including communication, femininity and romance.
Pink
Pink has been fashioned primarily in art and design. It is used to promote breast cancer awareness and to make ladies products. Most women love to wear this colour as it gives innocent, girlhood love and gentleness.
There are many shades of pink as the meanings of passion and romance and sensuality and creativity. Adele, in fact, used pink on one of her albums. Companies include Victoria's Secret and Cosmopolitan.
White
The lightest colour is also the purest. History tells us it was in use in art, sculpture, and was around before any other colour. It was originally coloured with chalk made of calcite.
Moreover, white can also mean grief and loss, spirituality, purity and sacredness. The Romans wore white togas as symbols of citizenship. A prism can use the white light to refract light, which shows the rainbow colours!
Brown
Brown is native, organic and natural. In the business world, it is used by UGG boots and cotton companies. It is the minor favourite colour of a poll by the public.
A variety of autumnal colours are seen in nature, wood, soil and culture. Earlier, this pigment was as early as prehistoric times. Brown is the colour of dark wood and rich soil.
Black
In history, the darkest shade was created by charcoals and crushed minerals. In Greek mythology, it was known as evil.
A colour of sadness and mourning, but at the time of ancient Egypt, it was cheerful and protected all fertility.
Today, many newspapers and magazines use black-and-white photos. Adidas, Nike, and Chanel perfume are a few brands that use this colour.
Thank You!
Lots of love as always,
Hands of an Angel xx
Have a reading with Hands of an Angel
Hands of an Angel can do a wide variety of readings. She has a truly delightful, uplifting energy and does not like wasting time—a lady who is very direct and to the point. Please find out more about her and have your own reading here via our website right here!
Speak to one of our Psychics!
Psychic Today has a highly experienced and friendly team of Natural Psychics, all of whom can provide you with unique guidance with any dilemmas you face in life! See who is available for YOU right now!
Select the psychic of your choice for an exclusive one-to-one reading! Speak to one of our  Trusted Psychics. Plus, you can watch us live right here!
Download our Psychic Today App now!
The Psychic Today App for all your psychic needs and get psychic readings on the go! If you haven't yet downloaded it to your mobile phone, you can do so by following our links here:
To download from the App Store – click here.
Or download it from Google Play – click here.
To top up your credit or if you have any questions or queries, our friendly reception staff are available 8:00 am to 2:00 am GMT on 0333 335 0297. You must be over 18 years old to use this service, which is for entertainment purposes only. You must be the bill payer or have the bill payer's permission. We may send free promotional messages. 
Psychic Today is Here For You!
Psychic Today is on a mission to continue providing the very best psychic advice. Now we have more ways to reach our trusted psychics, we have dedicated ourselves to answering your questions.
You can ring them via our EasyCall feature, found on your chosen Psychics profile. Text our psychics through our Text Reading page. You can also send IM's directly to the live stream via our App.
We have made it easier for you to get in contact with our psychics, and they will not disappoint!