The Magic Power of Water – By Carma
Water can be found in many places. Most especially in our brains, which are 80% water! It also drives our moods and emotions. Interestingly, we are in the Year of the Water-Tiger.
2022 is a year about the importance of exploring our feelings. So, we will be touching on the usual water themes, such as drinking water, showers/baths, rivers and the rain.
We will also examine how water impacts our psyche and explore the water zodiac signs. Water is life, and we wouldn't be here without it, so let's find out more!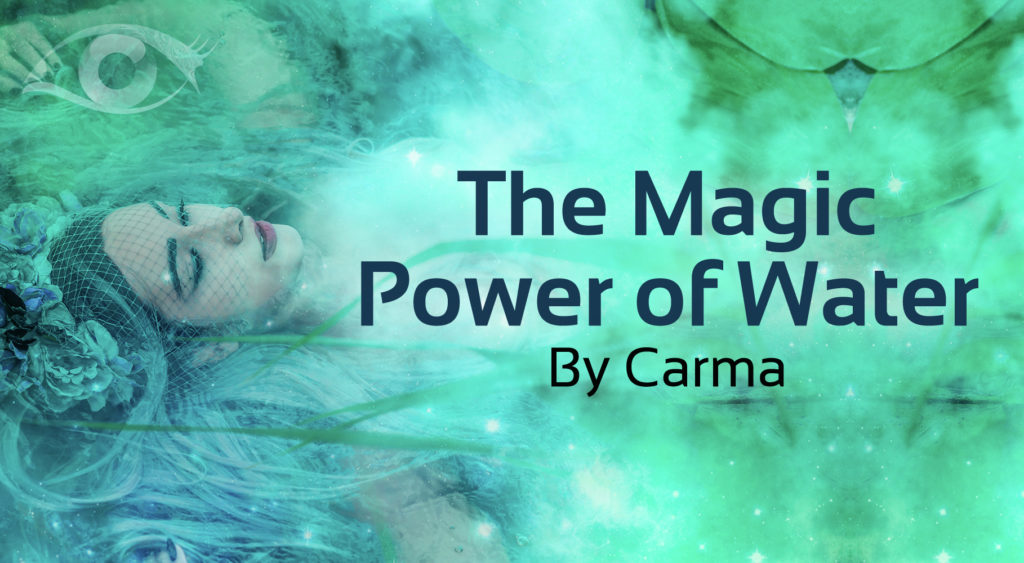 In Life
Water tends to slow us down, so we can be more in the present. For example, when navigating puddles or drinking water, we tend to pause, albeit for a few moments.
This pause is felt more so when we rotate a cube of ice in our mouth, as the drastic change in temperature and texture brings us to a sudden freeze! (I'm sure we all pull the same face too!)
Say, for instance, when we walk past a river, a pond, look at the sea or when an aquarium captures us. We tend to pause, be it consciously or unconsciously.
Sometimes it can feel as if we have been hypnotized. There is something about seeing water that makes us stop, take in the beauty and nuances of the colours, and feel soothed and at peace.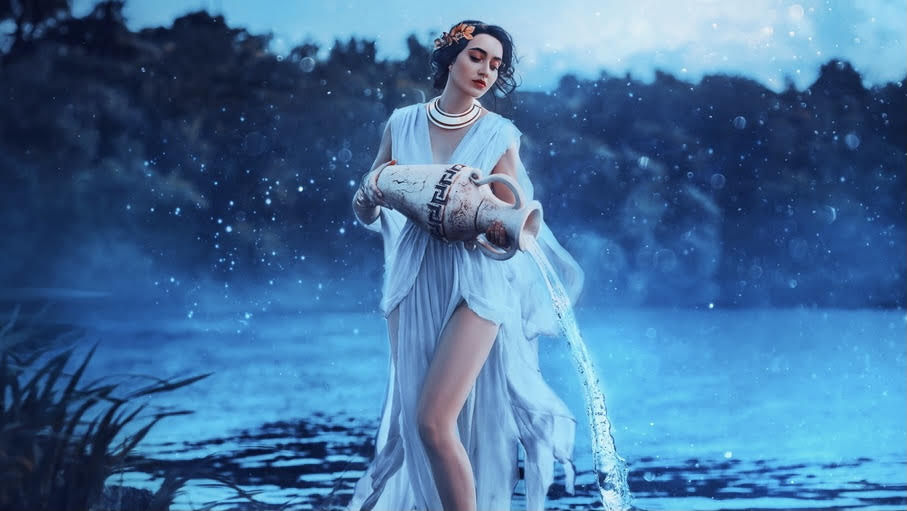 Water Signs
This is also one of the cardinal signs. Cancer's animal is the Crab. Traits: Emotional, intuitive, can be a loyal friend, prefer small groups, the family or their own company.
They can be direct and like to also be part of a pair. If in a healthy relationship, their best qualities will shine. This sign has an active internal life. They need an outlet for their creativity and their emotions.
Although they can be intense, they do have a good sense of humour. They can also appear standoffish, but you will see how sensitive they are if they allow you in.   
This is a fixed sign. Their spirit animal is a Scorpion. Passionate, direct, intense, love debates, not afraid of controversy and love genuine people. Their feelings drive and strengthen them.
Once you get past their shell, you have a loyal friend. They can be your best friend or your worse enemy (sting in their tail) by holding grudges, which is why the art of letting go needs to be mastered.
Their approach to life is 110%. They are leaders, not team players. However, they need to embrace their vulnerabilities more. This is not a bad thing; all of us can do that too!
This one is a mutable sign. Their spirit animal is two fish swimming in opposite directions. Deeply intuitive, sensitive, at best in small groups, and learn a lot about their emotions in their creativity.
They have a live and let live approach to life. Also, they need to embrace the concept of "detachment" and, by doing so, will know when to change direction. 
Otherwise, they can also go down the road of illusions, morphing into others and being indecisive. Incidentally, they have a knack for getting others to do things for them!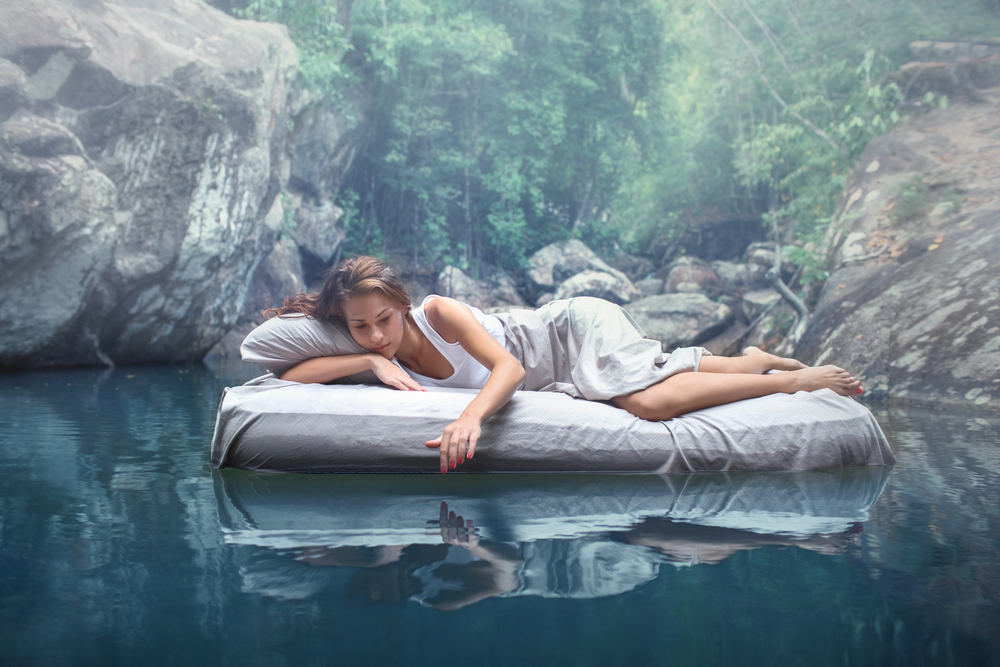 Dreams
The symbolism of water dreams can include life, death, change, rebirth and protection, to name but a few. Dreaming about water often reflects our emotional state, so if the water is calm, so is our state and so on.
Or calm or challenging times are ahead. Overflowing, waves, leaks, floods or tsunamis mean we have no control over our emotions. Water in the home indicates how we feel about the relationships in our homes.
When we accidentally spill water, this means that we have emotional blockages, and we need to live more in the now. If trapped within the water, this can indicate that we are having a hard time dealing with emotions.
Overall, water indicates hope, as it will help fade away negative emotions over time and return to its natural, clear and tranquil state of being. When we are at peace with water, it means that we are at one with life.   
Planets & Cities
Water is reported to exist on Pluto in the form of floating mountains, iceberg fields and valleys. Incidentally, Europa data suggested that shallow liquid water may be present on Jupiter this year.
Although the infamous lost city of Atlantis residing in the ocean somewhere is still heavily debated. This is not the position for Venice, the hot spot for romance or the underwater city of Shichengo in China.
The Feeling of Water  
However, we feel the water, be it in the process of navigating the rain, swimming, diving or just running water through our fingers or drinking it.
It feels limitless, soft, fluid and mutable, as well as the obvious, wet! Water also supports nature's growth and our life in a powerful way. 
Ceremonies and Purification Rituals
Many religions use water for cleansing, protecting and purifying the body. This is often referred to as holy water. This is heightened in ceremonies such as baptism and christenings.
Also, in preparing the body to move on from this plane. In Hinduism, the body's final resting place is the River Ganges. Incidentally, some cultures worship water deities.
Purification rituals are not just for the body but are also used to cleanse a space of lower vibration energy and bless a property and the land it stands on. This is so that a place of sanctuary is created.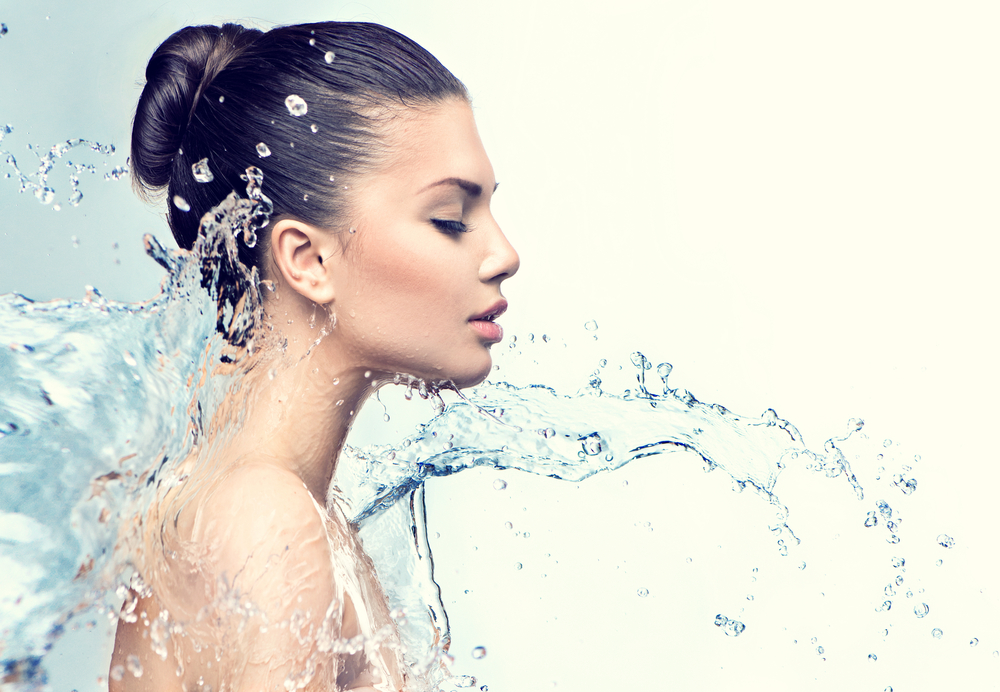 Healing Mineral Baths and Springs
Fortunately, these beautiful places can be found all over the world. However, certain countries are renowned for them. Such as
Hungary's healing baths.

Turkey's mineral springs.

France's healing baths.

Thermal baths at Bath.

Iceland's hot springs.

Jamaica's Blue Lagoon.
They all have in common the promotion of well-being. As the minerals in the water aid the mind, body, emotions and soul connection. In particular, aches, circulation, stress, sleep and the immune system.  
The popular relaxing and healing trend at the moment are spas, encompassing different types of treatments, saunas, steam rooms and a variety of pools.
These wonderful places promote healing, relaxation and the opportunity to connect with others. Some say this is also achievable on a cruise or a boat of some description. 
Home Spa
When unable to access these mineral baths and springs, do not worry because we can create our own at home. By having a bath filled with essential oils, herbal tea, sea salts and candles.
As well as rose petals/buds into the bath that assist beautifully in creating a relaxing ambience. The Japanese are a huge fan of baths, which are one of their meditative and relaxing rituals.
Interestingly, showers enhance our cognitive functioning and purification. This allows us to let go of the day while cleansing our aura.          
In Conclusion
Water is very powerful in healing and purification. The lotus flower also reminds us that although it grows in muddy water, it reaches for the light in its full glory without being impacted by the mud.
Philosophically speaking, we are reminded about resilience in the way the lotus flower navigates. Also, Emoto's water test experiment is worth exploring as it pertains to the power of our thoughts in how we impact water.
In light of the above, we may now look at water differently and want to explore the different types of water, such as solarized water and how this type of water can bolster the chakras! 
Connect with Carma
Carma is a compassionate, warm and uplifting psychic. She is looking forward to speaking to you and giving you a psychic reading! Contact her right here!
Speak to one of our Psychics!
Psychic Today has a highly experienced and friendly team of Natural Psychics, all of whom can provide you with unique guidance with any dilemmas you face in life! See who is available for YOU right now!
Select the psychic of your choice for an exclusive one-to-one reading! Speak to one of our  Trusted Psychics. Plus, you can watch us live right here!
Download our Psychic Today App now!
The Psychic Today App for all your psychic needs and get psychic readings on the go! If you haven't downloaded it to your mobile phone, you can do so by following our links here:
To download from the App Store – click here.
Or download it from Google Play – click here.
To top up your credit or if you have any questions or queries, our friendly reception staff are available 8:00 am to 2:00 am GMT on 0333 335 0297. You must be 18 years old to use this service that is for entertainment purposes only. You must be the bill payer or have the bill payer's permission. We may send free promotional messages. 
Psychic Today is Here For You!
Psychic Today is on a mission to continue providing the very best psychic advice. Now we have more ways to reach our trusted psychics, and we have dedicated ourselves to answering your questions.
You can ring them via our EasyCall feature, found on your chosen Psychics profile. Text our psychics through our Text Reading page. You can also send IMs directly to the live stream via our App.
We have made it easier for you to get in contact with our psychics, and they will not disappoint!