New Moon in Sagittarius – 23rd November 2022
The New Moon in Sagittarius will occur on Wednesday, 23rd of November 2022, at 10.57 pm GMT. Sagittarius is the archer and is the ninth sign of the zodiac. It is a mutable fire sign with the planetary ruler of Jupiter.
With all of these facts in mind, using the new lunar cycle of the new moon can benefit us in many ways, so understanding how to utilise this energy will reap the rewards in the weeks and months to come.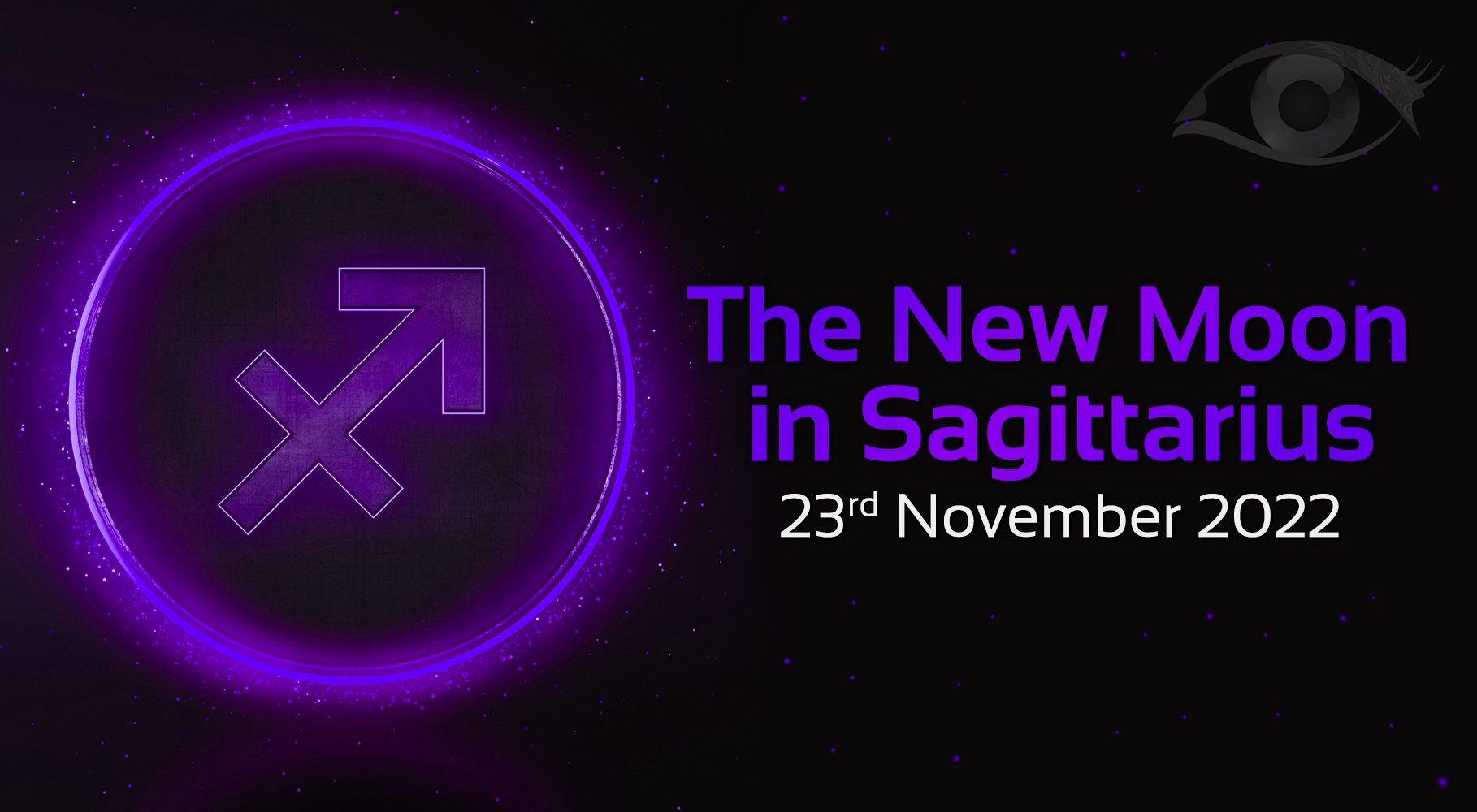 By this new moon period, we will be relieved to learn that any feelings of lethargy will pass. The fire energy of the free-spirited, restless and adventurous Sagittarius will fill us with optimism and renewed insight.
This will be a particularly illuminating period, for a shift in perspective will prevail, offering answers and resolutions to inactivity and ignorance.
Under the influence of this new moon, there will be a focus on new learning as well as expanding one's own knowledge and understanding of how we have evolved over the last few months.
Planets in Alignment this New Moon
As well as the moon being under the influence of fire energy, we also have the Sun, Venus and Mercury in almost alignment. Freedom, independence and the need to connect to a higher consciousness will give answers.
Where lack of direction, or having a sense that something is occurring but not measuring up, will now be clarified with everything lining up.
With this now coming into form, one's perception of moving forward will be easier with a clear sense of purpose and a new sense of direction.
As with all new moons, using this knowledge will help formalise ideas, so taking time to consider these seriously at this time makes them more likely to develop successfully.
New Moon Astrology
Venus and Mercury will also be making a trine to Charon at 12 degrees Aries retrograde, increasing the need to be ready to do something on one's initiative.
This is excellent timing for challenging oneself, especially in areas that may have felt too ambitious or out of one's comfort zone.
Tapping into instinct and trusting in one's ability to be adventurous with the understanding that success lies in what can be learnt would greatly benefit one's confidence. Healing is the main purpose of these exercises now.
Concerning career, this can be highly beneficial, especially if you have been seeking approval for new training initiatives or putting out serious feelers for a change of career or a project that you feel passionately about.
The Beauty of the New Moon in Sagittarius
Sagittarius is a great philosopher and gifted in learning and scholarly practice. Do not be surprised if you become drawn to expanding your knowledge of religious practices or a subject that will broaden your mind.
Jupiter being Sagittarius' ruling planet, subject areas that involve making balanced decisions and judging fairly can come to focus.
Temperance is the Tarot Card that represents Sagittarius. So it will be no surprise to learn that activity and thought need to align and that humility is necessary for harmony.
The Fire Energy
Regarding relationships, knowledge is power, so learning lessons from what has worked and what has not worked in the past will place you in good stead for the lunar month ahead.
The fire energy of this sign will bring renewed passion to established relationships. If it has felt that there has been a lack of acknowledgement of a partner. You should feel confident that both of you will want to reconnect.
Understanding the other person's perspective will bring clarity and knowledge and expand the opportunity to relate better to one another.
This will see confidence increase, and you may even sense that both of you would like to learn something new about one another. It also would not be so bad to give each other space to grow and encourage individual aspirations.
Sagittarius people love independence, and accepting this is not a withdrawal from the person we love. But a time for personal development that will benefit both parties.
Romance this New Moon
For the singletons, this New Moon might be an opportunity to embrace freedom and identify personal development opportunities.
Not only this but to have gratitude for having time to give ourselves new challenges that take us out of our comfort zone. Physical activity is great now, as the fire energy will show.
Signing up for something new now will likely see a continuation of this exercise taking precedence in one's self-improvement. Signing up for a new class or social group will also open up opportunities to meet new people.
Chloe 
Speak with Chloe
Our very own shining star, Chloe, has an abundance of psychic knowledge and wisdom to she would love to share with you! Especially about the New Moon!
And if you want a psychic reading? There is no better time than right now! Psychic visions, under this Moon, will enhance these like no other!
Redeem Our New Moon Offer!
Be sure to check out our exclusive Psychic Today Offer: 10-minute psychic reading for just £10!
You can use your purchased minutes with ANY of our Top Psychics. This offer is available via the Psychic Today Website or App and is a one-off purchase.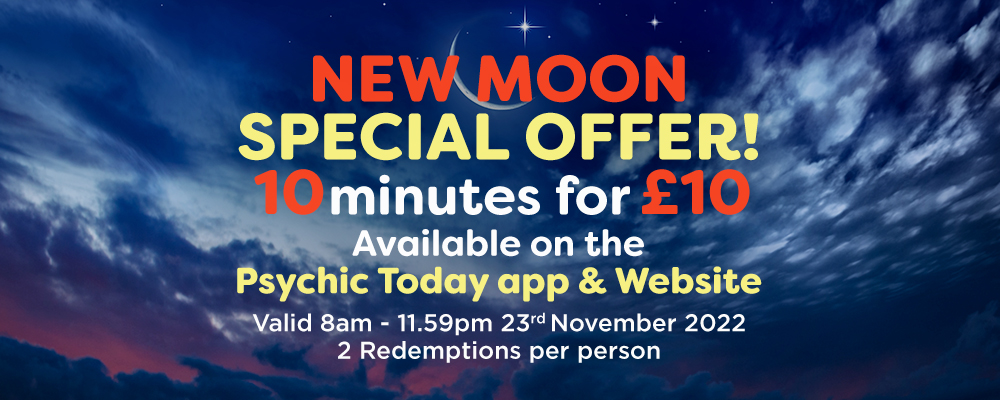 Speak to one of our Psychics!
We have a very experienced and friendly team of psychics with us here at Psychic Today! See who is available for YOU right now!
Select the psychic of your choice for an exclusive one-to-one reading! Speak to one of our  Trusted Psychics. Plus, you can watch us live right here!
Download our Psychic Today App now!
The Psychic Today App is for all your psychic needs! If you haven't yet added it to your mobile phone, you can do so by following our links here:
To download from the App Store – click here.
Or download it from Google Play – click here.
Psychic Today is Here For You!
Psychic Today is on a mission to continue providing the very best psychic advice. Now we have more ways to reach our trusted psychics, and we have dedicated ourselves to answering your questions.
You can ring them via our EasyCall feature, found on your chosen Psychics profile. Text our psychics through our Text Reading page. You can also send IMs directly to the live stream via our App.
We have made it easier for you to get in contact with our psychics, and they will not disappoint!