Knitting Together Numerology Series
Looking At The Number 5 (five) – "All Change Please!"
Continuing our Numerology series, today we focus on FIVE – you can count the number on the one hand. Or one foot! The fully formed human hand or foot has five digits. Our bodies have five major extremities – head, two hands and two feet. Our head contains five senses – sight, sound, touch, taste, smell.
The human body is intricately and beautifully mathematically made. Our foot is said to be approximately the length of our forearm. Our nose is said to be approximately the length of our thumb. There are so many more of these correlating body proportions as depicted by Leonardo Da Vinci's Vitruvian Man.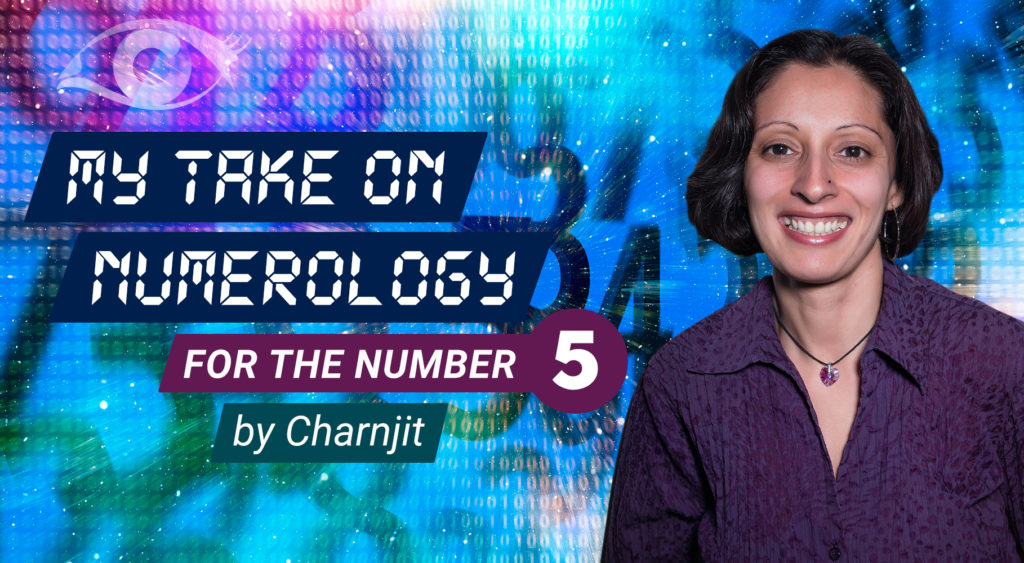 So, it's no wonder then that the number five in numerology represents change, travel, adventure, challenges. All five of our senses, being stimulated and activated, creates the desire and thirst for all these things. Overstimulation can result in burnout whilst under-stimulation can result in bore out. Once again, as with most things in life, it's about getting the balance right.
Number Five in Balance
Talking of balance, the number five is the halfway point between 0 and 10. Those with a number 5 life path, pinnacles or period cycles in their chart tend to get along with most other numbers providing their attention span is being met. They are very free-spirited. Other numbers tend to need another to balance and complement one and other. These pairings add up to ten – ten being the completion number.
Depending on where these numbers flag up in your chart, we can look at compatibility, not just for life paths but varying stages in life cycles. This may help explain some of the ups and downs which inevitably happen in any long-term relationship. 
Balance Numbers
One and Nine – one leads and initiates, nine completes, supports and serves. One is there at the beginning. Nine makes sacrifices and stays until the end.
Two and Eight – similar to astrology, the second house is about values and partnerships, whilst the eighth house is about shared resources amongst other things. Two enjoys peace and harmony with another. Eight shares the universal vision they have been given.
Three and Seven – an interesting pairing. Three is connected, social, chatty – the one who has the low down on the down-low. Seven is introspective, quietly knowing, truth, wisdom. The three helps draw the seven out of its shell and headspace to help express their inner wisdom with others.
Four and Six – these are my home, family and community numbers. Four, as mentioned in the previous blog, is the reliable, structured, organised one. Six is about family or a small, tight-knit group or environment that feels like home or family. While the four is pretty grounded, six just needs to make sure they include themselves in the nurturing process.
Five and Five – make ten. Happy to pair with themselves and enjoy the journey meeting anyone and everyone, adapting along the way for as long as it keeps their interest. Another five is also good providing there is enough flexibility and that they have some common ground.
Challenge and Cycle Numbers
Fives tend to be good in media because of their adaptability, having a good ear for sound (the ears being part of the throat chakra – the communication chakra) and a knack for the written or spoken word.
Those with a first five-period cycle number (born in May) will either be a second or third decan Taurus (driven by beauty particularly through the five senses) or a first decan Gemini – driven by variety. Both Taurus and Gemini are linked with the throat chakra – chakra number 5. Taurus rules the throat. Gemini represents communication, as does the throat chakra. 
Those with five as a challenge number in their chart have a couple of options – the challenge to adapt and try new and different things OR the challenge to streamline the number of activities so that they can actually complete them. 
Number Five in Astrology
The fifth house in western astrology is ruled by Leo. Leo is fixed fire, loyal, ruled by the Sun. Leo energy is warm, generous, gregarious, loves to shine, just like the sun! The fifth house is about creativity, passion projects and children. It is also the house of affairs (I guess that's where the boredom factor and variety come in). The opposite is the 11th house, the house of large groups, hopes, dreams and wishes, ruled by Aquarius, fixed air, innovative, rebellious and egalitarian.
Number Five in Letters
The letters that represent the number five are:
E – fifth letter (5)
N – fourteenth letter (1+4=5)
W – twenty third letter (2 + 3 = 5)
Having these letters in the name can indicate a need for freedom above all else. Those whose name starts or ends with one of these letters (particularly the vowel E) will start or complete something in their own sweet way thank you very much! Not much to say to that other than allow them if you can because then you will get the best out of them. You may even see new and different ways of doing things. 
When I look at the letters E, N, W it reminds of E, N, T – ear, nose and throat. Again, there's the throat chakra connection. The ear, nose and throat are all connected and also all part of the throat chakra energy.
Number Five in Tarot
In tarot, we have two major arcana that represent the number five:
V – HIEROPHANT (teaching)
XIV – TEMPERANCE (moderation)
The Hierophant is ruled by Taurus, lover of senses, as discussed earlier. Temperance is ruled by Sagittarius, the lover of freedom, travel and philosophy.
We have four minor arcana that represent the number five:
(1) Five of wands (competition)
(2) Five of swords (grace)
(3) Five of cups (blessings)
(4) Five of pentacles (spirit)
Using the keywords, we can create the following affirmation/meditation for number five:
Competition, even in moderation, can bring disappointments or blessings, both of which I receive with grace and gratitude, teaching me that spirit always has my back despite the challenges of life.
Number Five in Chakras
In yoga, the fifth chakra is the throat chakra which has become a running theme throughout this blog (just the way it flowed). It is also known as the Vishuddha chakra. We are now in the upper universal chakras. It is light blue in colour, so a light blue or turquoise scarf would be ideal for balancing the throat chakra. Be guided by your intuition. You may feel to wear a different colour because of a deeper meaning to the connection of your energy, frequency and vibration with this chakra.
Earrings/nose rings/nose studs can also be beneficial to balancing the throat chakra, particularly turquoise, or any crystals, colours, metals that resonate for you. Just like number five, energy is ever-changing. When we understand, work with and adapt accordingly, fine-tuning on an ongoing basis, we start to flow – and glow!
Communication!
I've mentioned several times about the throat chakra ruling communication. Successful communication is as much about, if not more, listening than it is speaking. I remember in a meditation group someone saying "you have two of these (points to ears) and one of these (points to mouth)" Made a lot of sense! Double the listening, half the speaking.
Interestingly, the word listen is an anagram of silent. When we are silent, we can really start to listen. Listen to our internal chatter, our environment, our inspiration and ideas, our truth. In conversation, when we are silent, we can start to actively listen to the other. 
Number Five in Yoga
Yoga for the number five
The Five Tibetan Rites are an ancient yoga practice which consists of a series of five exercises repeated in multiples of three (up to 21 times each). 
Pranayama – Ujjayi breath (victorious breath or ocean breath). It is warming and works using the throat and diaphragm. I call it the Darth Vader breath because that's what I sound like.
Fish pose (Matsyasana)
Goddess pose (Utkata Konasana)
The Seven Year Cycle
In our seven-year by seven-year chakra cycle, we are in our seven-year throat chakra phase between the ages of 28-35, 77-84 and so on. We are in our "double throat" chakra energy between the ages of 32-33 and 81-82. Around age 28, we begin our first Saturn return.
There is usually a significant event that occurs around this time (give or take a year or so). It is one of our first stages of "maturing". Age 84 is around the time of our Uranus return if we can make it that far.  We would have gone through a 7 year Uranian transformation period in each of the 12 signs. 
Other Number Fives
Five S.M.A.R.T. goals (specific, measurable, attainable, realistic, time-bound)
Starfish
Tally chart
Pentagon
Pentacle
Five platonic solids (tetrahedron, cube, octahedron, icosahedron, dodecahedron)
Pythagorean 3-4-5 triangle
In the next blog in the Knitting Together Numerology Series, we'll take a look at the Number 6 (six) – Love makes the world go round.
Until then, here's a big high five with lots of love and light,
C xx 
Connect with Charnjit – Experienced Numerology Reader
If you enjoyed this blog, see how things would work out for you personally by having a Numerology reading with Charnjit herself. Using your date of birth, she can tell you what to expect and what may develop for you. She can also use cards, her natural psychic senses and much more.