Chakras – Top Tips For Better Balance
NAMASTE, my name is India Jo and want to share my guidance and top tips for looking after your Chakras. It's something our Chakra Readers and I discuss regularly with each other!
It is my own belief and experience that it is as important to look after your Chakra as brushing one's teeth and ideally becoming part of your daily routine!
Don't forget you can watch us LIVE via our website, PLUS our Facebook page for special Live sessions to interact with your questions for FREE with our psychics!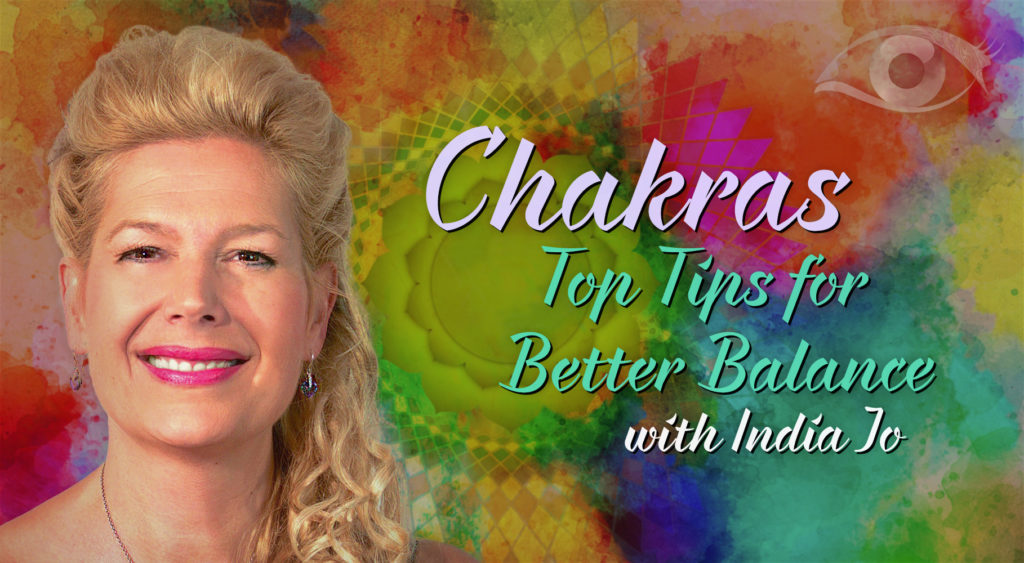 How Do I Visualise My Chakras?
The word "Chakra" is Sanskrit for Wheel or Disc. Try to imagine it as a spinning wheel of coloured light, wheel or disc. Alternatively, you can view it as different coloured lotus flowers with petals as open or closed, and some may view their Chakras as a spinning vortex of coloured light with overlapping fan blades.
After all, we are particles of energy; our Chakras are in and around us these are our energy centres and thus an essential part of us. Which, in turn, may be subjected to blockages and dark patches affecting our energy field and others affecting ours.
How Many Chakras Are There?
Whilst there are many Chakras within our energy field, we as spiritual adepts tend to deal with 7 Major Chakras. Interestingly, each one is attributed to different parts of our physical, mental and emotional selves. For example, listed below is a brief outline of the Chakras, colours and which part of our physical, each one is associated with.
Base Chakra
Situated in the pelvis area or tail of the spine (coccyx). Coloured red and deals with abundance, career, safety, "lack", the material side of ourselves, and obviously our reproductive system within this area. 
Sacral Chakra
Situated a few inches above the base Chakra, just below the navel, in the back is located in the lumbar spine. It is coloured Orange; this can deal with addictions, sleep, physical cravings, sensuality and creativity.
Solar Plexus 
Situated a few inches above your Navel and is in the centre of your trunk, this is coloured golden or yellow. It is your powerhouse and is an essential Chakra associated with ego, your self-identity. I find that when someone or something has upset me, I tend to feel like I have had a power punch to my belly. I've been known to lay down with a piece of Citrine crystal sat on my Solar Plexus, I have even taken to bed with it on my tummy. 
Heart
Coloured Pink or Green, as in the title is situated in your heart centre, the perfect Crystal for this Chakra is a "watermelon Tourmaline". I use both "Rose Quartz" and "Jade Crystal" when cleansing this Chakra, blockages on an emotional level might be needing to cleanse away lost love/broken heart. This is your centre for compassion, empathy, love and forgiveness blockages. Dark patches may create a problem with the physical self.  
Throat
Coloured Turquoise and is associated with all things communication. in fact, any blockages felt or seen in this area may be issues you are having with either speaking your truth, being heard, and relating to your ability to understand. Archangel Gabriel is a wonderful Archangel to invoke with all things communication; from the spoken to the written word, I often find that around the time of a Mercury Retrograde.
Third Eye
Coloured Sapphire Blue with twinkling sparkly diamond glints, located on the forehead between the eyebrows. It is the centre of your intuition, mind pictures/visions. This Chakra is your inner wisdom, your sixth sense; this is your gate that leads to your inner realms.
Crown Chakra
Situated on the top of your head and is the highest of the seven Chakras we are looking at right now. In other words, this is your link or bridge to the cosmos, your higher consciousness, your spiritual self.
Why Should We Cleanse Them?
As we go about our daily lives, our thoughts can very much affect the balance of our Chakras. We can easily put them out of sync, i.e. spinning out or slowing down, you might feel or see your Chakras as having Dark patches, dirty, swollen or shrunken. Specifically, we need our Chakras to be spinning in a similar motion with no dark patches for the optimum benefit.
Any fear-based thoughts or words of our own, from others, or watching social media, TV. In fact, I sometimes find the news invariably to be upsetting, being sensitive we/our Chakras can soon be impacted by any of this, especially the negative and fear-based words. So don't worry, it happens to the best of us.
How To Cleanse Your Chakras
To do a quick cleanse or a deeper one; you can watch my latest "Chakra Cleanse with the Archangels" video on the Psychic Today Facebook page right here! Thus you can playback, you can visualise for yourself each Chakra and check out with your mind's eye for imbalance and dark patches.
YouTube
I have really enjoyed explaining all in this Blog; thus, there was room for more! You can see me explain more in my latest video for Chakra Top Tips via the Psychic Today YouTube page below!
By clicking onto our YouTube page right here, you can, in fact, see many other videos from my fellow psychics on many other psychic subjects!
Happy Balancing in Love and Light 
Thank you for reading!
India Jo xx
Speak to India Jo!
India Jo is an empathic psychic who also works in the realms of Reiki and Angelic spiritual healing. She has a very open, caring and friendly nature. in fact, she makes regular appearances on Psychic Today. India Jo would love to give you a chakra reading too! Contact her right here!
Speak to one of our Psychics!
We have a very experienced and friendly team of psychics with us here at Psychic Today! Currently, you can see who is available for YOU right now!
Select the psychic of your choice for an exclusive one-to-one reading! Speak to one of our  Trusted Psychics. Plus, you can watch us live right here!
Download our Psychic Today App now!
The Psychic Today App for all your psychic needs! In fact, if you haven't yet added it to your mobile phone, you can do so by following our links here:
To download from the App Store – click here.
Or download it from Google Play – click here.
Get a TEXT Reading!
Our Trusted Psychics are dedicated to answering your questions. Simply select the topic you want guidance on, type your question and mobile number, and one of our top psychics will respond with your Text Reading.