Knitting Together Numerology Series: Looking At The Number 10 (ten)
Plus Master Numbers 11 (eleven), 22 (twenty-two) and 33 (thirty-three) – Levelling Up To Self Mastery, Dreams And Unconditional Love 
The final part of this Knitting Together Numerology series looks at the remaining double digits. The number 10 leads us to the Master Numbers of 11 (eleven), 22 (twenty-two) and 33 (thirty-three). Read on below!
Don't forget you can watch us LIVE on television on Sky Channel 680, or via our website, PLUS our Facebook page for special Live sessions to interact with your questions for FREE with our psychics!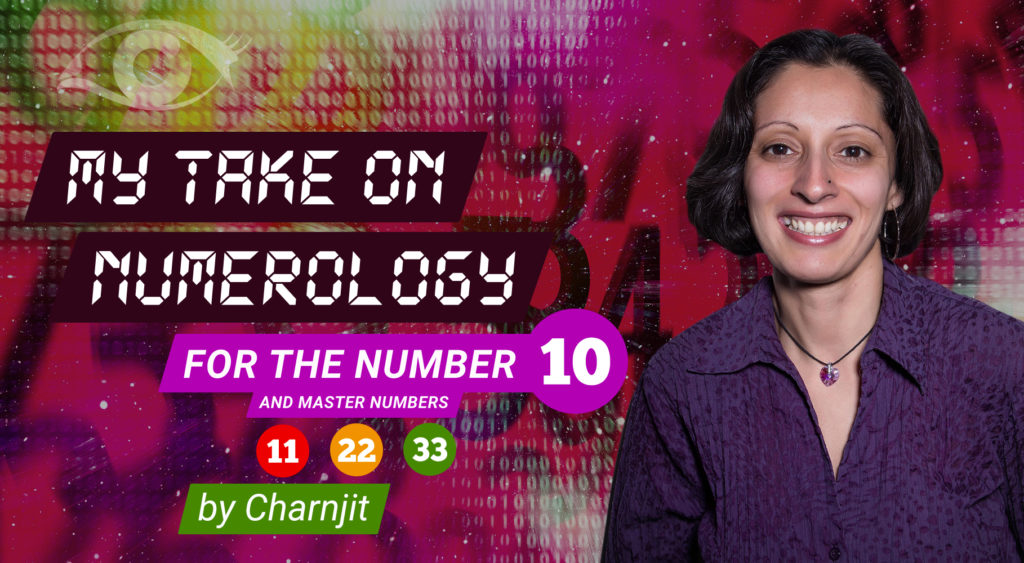 Number Ten – Levelling Up
The number ten in numerology, like the number nine, is one of completion. It is a high energy number like the other multiples of ten. Not really seen in the main numbers other than the birthday number, which indicates the environment we like to be in.
Those with a ten birthday number would be similar to the number one birthday number (like to be in control, take the lead, be the best and be around the best) but with even more intensity – taking things to the next level. 
Number Ten in Astrology
In western astrology, the tenth house is ruled by Capricorn, which is cardinal earth. Capricorn energy loves work, work and did I mention work? 😊 The tenth house is all about responsibility, status and reputation. It is at the top of the chart and represents being at the top of our game, reaching that mountain top.
The cardinal aspect of Capricorn takes the initiative and takes the lead, while the earth aspect deals with the practicalities. Being a transcendental sign, it has accumulated a wealth of knowledge and experience from all the previous signs, taking this and applying it to maximum effect and result. 
Number Ten in Tarot
Using all of the keywords from the tarot cards representing the numbers 1, 10 and 19, we can create the following affirmation for the number ten:
By the grace and good fortune, I have taken on the responsibility to go through an internal resurrection process to reach fulfilment and earn my tenfold legacy. A new cycle begins with renewed faith, resources and innocence. A higher level of clarity ignites the spark for even more love and peace.
Number Ten in Yoga
Kundalini yoga works with the ten bodies – the physical body, three mental bodies and six energy bodies:
1st Soul body
2nd Negative mind
3rd Positive mind
4th Neutral mind
5th Physical body
6th Arcline
7th Aura
8th Pranic body
9th Subtle body
10th Radiant body
Other Tens
"10:10 'til we do it again" – CB radio speak
Number 10 (Downing Street)
10/10 (top marks)
1010 in binary is equal to 10 in decimal
Decimalisation
Decades
Tithing
10-day vipassana silent retreat
Five a side (sport)
Number Ten in Quote
"Life is 10% what happens to you and 90% how you respond to it" ~ Lou Holtz.
Master Number Eleven – Self Mastery Through Alignment
In numerology, Eleven, the first master number, is an ascended version of one. One represents the oneness of all things. Eleven is about being aligned with your true self and higher purpose, allowing you to be a conduit for this energy to manifest through you. When we become clear – in mind, body, spirit; thoughts, feelings, actions; work, rest, play – we begin to align with the divine, and the effortless effort of being in the flow comes into play.
The Eleven Path
When we recognise and live this more and more so, too, we begin to become aware a lot sooner when we are off-kilter and need to take time out to have time in so we can re-align ourselves.
We are wonderful multifaceted beings, which makes us who we are – our ability to step out of our comfort zone and embrace the unknown for the unknown is also part of all things' oneness. With time and experience, the unknown becomes known. The path becomes clear, and there is nothing to fear. 
The eleven is leadership through gentleness, co-operation and balance. It is a master communicator, counsellor, healer and mediator. It is personal transformation and self-mastery. 
Number Eleven in Astrology
In Western astrology, the eleventh house represents large groups, friends, hopes, dreams and wishes. Aquarius fixed air rule it. Innovation, forward-thinking and sometimes a bit of rebellion but with inclusion and humanitarianism in mind. Learning to master our thoughts for the good of all.
Number Eleven in Tarot
In tarot, the court cards represent the 16 different facets of people's energies, re-iterating the concept of humans as multifaceted beings.
Keywords for the Court Cards
(1) Page of wands – action
(2) Page of swords – swiftness
(3) Page of cups – invitation
(4) Page of pentacles – guarded 
(5) Knight of wands – passion
(6) Knight of swords – sharp
(7) Knight of cups – flowing
(8) Knight of pentacles – languid
(9) Queen of wands – dynamic
(10) Queen of swords – shrewd
(11) Queen of cups – compassion
(12) Queen of pentacles – grounded
(13) King of wands – experienced
(14) King of swords – wise
(15) King of cups – maturity
(16) King of pentacles – abundant
Number Eleven Affirmation
Using all of the keywords from the court cards, we can create the following affirmation for the number eleven:
As a messenger (page), sometimes I bring swiftness through action and sometimes guarded invitation.
A traveller (knight), adventure shows me when to be sharp and move with passion or be languid and flowing.
As a nurturer (queen), compassion allows me to know when to be dynamic, shrewd or grounded.
A master (king), maturity makes me experienced, wise and abundant.
Number Eleven in Yoga
In kundalini yoga, the eleventh body is the totality of mastering all ten bodies. Many of the sequences in kundalini yoga are carried out for 11 minutes.
Meditation for the eleventh body is the Ra Ma Meditation (ra, ma = sun, moon).  Done in easy pose, gyan mudra for one to eleven minutes.
Other Elevens
Remembrance/Armistice Day
Veterans Day
Singles Day
Legs eleven (bingo)
Elevenses (short tea/coffee break at about 11 am)
Eleven in Quote
"I always make a wish at 11:11, even if it's something cheesy". ~ Jessica Sanchez
Master Number Twenty-Two – Dreams Into Reality
Twenty-two, the second master number in numerology, is about taking a concept or dream (2 = sacral chakra = desire) and grounding it into something tangible, detailed and structured (2+2=4). People with 22 in their chart may devote their life to something or manage a large project or building of some sort. 
Number Twenty-Two in Astrology
I link 22 with the 12th house in western astrology as it represents completion, things happening behind the scenes, the subconscious and otherworldly energy. Pisces rules, mutable water, the ability to adapt and shift and change with compassion, incorporating everything, the seen and the unseen, the manifest and the unmanifest.  
There is also a 12-year Jupiter cycle and 12 astrological animals of the Chinese zodiac. 
Astrology dice are available, which are dodecahedrons (12 sided).
I link 22 with the world card in tarot, the 22nd major arcana, representing completion, sometimes showing the four fixed signs (Taurus, Leo, Scorpio, Aquarius) at each corner, grounding the dream into reality.
Affirmation for the Number 22
I have taken the best of the best and the best of the rest with creativity, empowerment and love to achieve my dreams – I have reached completion -I am the dream. This is my reality. I am.
Number Twenty-Two in Yoga
Mastering the four interconnecting paths (jnana, karma, bhakti, raja) can lead to completion and attainment of moksha, mukti, samadhi, enlightenment, liberation.
Twenty-Two in Quote
"Each soul is potentially divine. The goal is to manifest this divinity within by controlling nature, external and internal. Do this either by work or worship, or psychic control or philosophy – by one, or more or all of these – and be free." ~ Swami Vivekananda
Master Number Thirty-Three – Unconditional Love
Rounding up the numerology numbers is 33, which is also considered a master number by some. I see the master number 33 as a master healer number – unconditional love, love being the highest vibration.
Affirmation for the Number 33
Love is love.
Number Thirty-Three in Yoga
In yoga, the path of bhakti-yoga is one of devotion – unconditional love.
Other 33s
33 vertebrae in the spinal column
Thirty-Three in Quotes
"I think dogs are the most amazing creatures; they give unconditional love. For me, they are the role model for being alive."  ~ Gilda Radner
"Unconditional love really exists in each of us. It is part of our deep inner being. It is not so much an active emotion as a state of being." ~ Ram Dass
Thank You for Reading
Well, that concludes the blogs for each of the numbers in numerology. Thank you for sticking with it if you got this far!  Wishing you much love on the journey of self-discovery through numerology or otherwise!
Charnjit xx
Connect with Charnjit – Experienced Numerology Reader
Charnjit is an exceptional Numerologist, having studied Numerology for over 15 years. Get a personal reading with her today! By providing her with your date of birth, Charnjit can use her Numerology skills to tell you what to expect and what may develop for you in the future.
You can watch Psychic Today Live!
You can watch the show LIVE between 8 am and 10 pm on Sky Channel 680 or via our website and on our YouTube page!
Download our Psychic Today Companion App now!
The Psychic Today Companion App for all your psychic needs! If you haven't yet added it to your mobile phone, you can do so by following our links here:
To download from the App Store – click here.
Or download it from Google Play – click here.
To top up your credit or if you have any questions or queries, our friendly reception staff are available 8:00 am to 2:00 am GMT on 0333 335 0297. You must be over 18 years old to use this service, which is for entertainment purposes only. You must be the bill payer or have the bill payer's permission. We may send free promotional messages. 
Facebook
Text FACEBOOK and your question to 65511 for your free reading! (Usually £1 per message, max 3 messages per reply. One per person. CS: call 0333 335 0297. UK Only) Click on the link to our page and see our Facebook Live sessions right here!