Sun Tzu – Actions For You Today! – with Nigel
For this blog, I wanted to introduce you to Sun Tzu. With this, I thought this would be a great time to look at some of the great unknown philosophies and practices that we can today learn from and guide with our 21st-century thoughts and mindset. Read on below!
Don't forget you can watch us LIVE on television on Sky Channel 680, or via our website, PLUS our Facebook page for special Live sessions to interact with your questions for FREE with our psychics!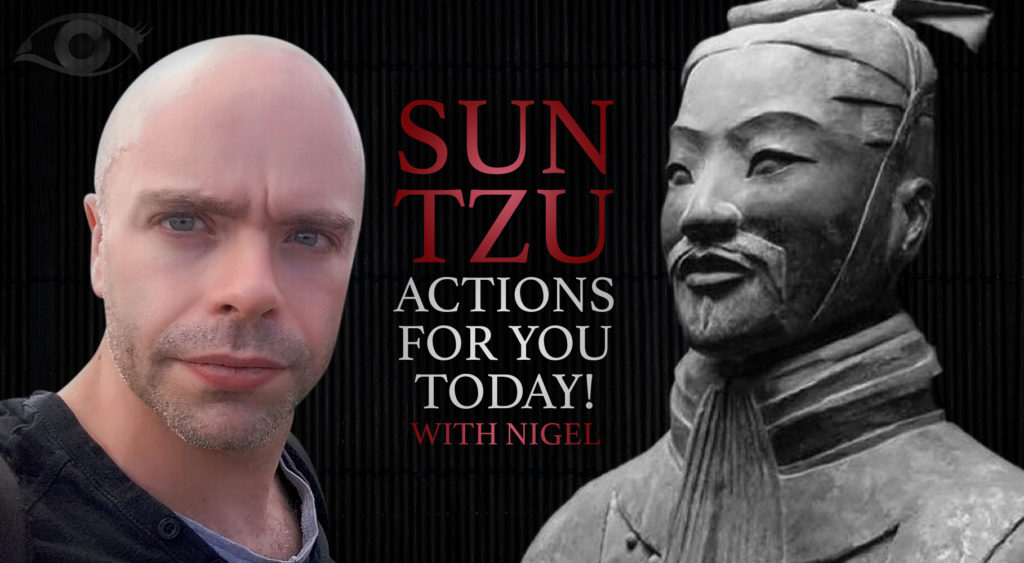 I first started to learn the Chinese Mandarin language at University almost 7-years ago. I fell in love with the language; it's 汉子 hanzi, the written Chinese characters; this led me to study ancient Chinese history and philosophy. 
Our Modern World
With recent world events, the way we think, how our mind fluctuates from one thought to another, the process of controlling our own process, and supporting those hidden instabilities of our human brain is something we all laid bare on the examination table. 
Learning to balance life's daily experiences can be, at times, hard on the mind.  As a psychic medium, I have to balance and master my thoughts to tune in, or even tune out, of the world around me. However, it takes time and practices the benefits of knowing or owning one's own state-of-mind, to be honest with yourself. It is a rewarding experience and is a lesson that can begin during this lockdown. 
21st Century Problems
Most people have heard the saying: "know thy enemy," or "know your enemy." 
This saying goes back 1000s of years to 5th century BCE China, between 771 to 476 BCE. This period is called Spring and Autumn in ancient Chinese history. It's viewed as a time of great enlightenment, idealism and philosophy.
One of these great thinkers was Sun Tzu, 孙子,  pronunciation Sun Su, a Chinese war strategist, a thinker, a philosopher, and a writer.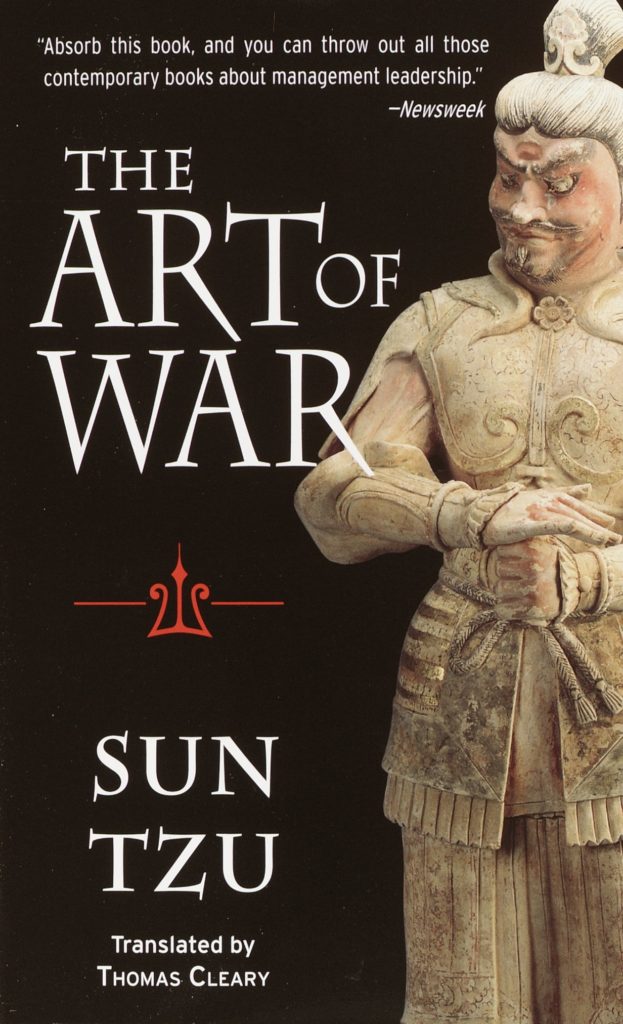 The Art Of War by Sun Tzu 
Translated by Thomas Cleary, Shambhala in 2005, his book, The Art Of War (written between 771 to 476 BCE), was written as a tactical and philosophical approach to war, life, and the state mind that governs them. Though his book is primarily about the stratagem of warfare, it's also a book on the human mind.
How to perceive yourself and others, our thought process, leadership, and wellbeing. Though it's only a short novella in length, it's packed with sayings and quotes that have seeped into daily English idioms – you'll be surprised how much ancient Chinese philosophy and/or sayings has been adopted into other our culture. Academics still read The Art Of War, and Sun Tzu's sayings and proverbs can still be food for thought. 
What is he really saying? And how can 3000-year-old Chinese war Lord help with modern life? It's all about perspective. 
The Art Of War: Sayings and Philosophies
"If you know the enemy and know yourself, you need not fear the result of a hundred battles – Sun Tzu.
21st-century life is all about the next thing, the latest product, the bombastic news headlines and celebrity Twitter stories. There is little development and focus on our own relationship with ourselves. Sun Tzu wants us to understand what makes us tick. Our strengths, our weakness. How we behave in any given situation and learn from them. Life is all about moments. One droplet of life to another. 
The more we understand the inner world, the more we can gain a greater perspective on how others think and feel and react.  The enemy (in any situation) has needs and wants. They have a unique vision of the world created by their experience and thought process. In understanding other people's needs and identifying their strengths and weaknesses, we have to understand that we have some of the same human needs and problems. 
Having empathy for others allows us to understand others' actions and their own relationship between thought and self. Sun Tzu considered the mindset, and ones own relationship between thought and that effect on our actions. 
Sun Tzu on Controlling the Mind
"If the mind is willing, the flesh could go on and on without many things." –  

Sun Tzu.
Mindfulness is a buzz word for our time. It's more reliant and talked about in a physical lockdown where our minds are caged and can't fly away. Sun Tzu understood the link, in any situation, between the mind and body that the mind has hold of the flesh, the body, the outcome.  
To succeed in life, we must take control of our thoughts before anything else. A strong mental outlook allows us to be adaptable when life is uncertain. It focuses on our goals and not to waver and a long journey on the sea of life. 
"Victorious warriors win first and then go to war, while defeated warriors go to war first and then seek to win." – Sun Tzu.
If we make the mind a positive nest of thoughts, then the body will follow. First, the mind has to be in a state to obtain willingness. On the battlefield and in daily life, Sun Tzu knew that the practice of good mental health, to nurture ones thinking, so ideas are positive, relentless, and ready for new challenges and not succumb to negatives from the world around us, even before the battle has begun.
Sun Tzu on the Mind of a Leader
"Every battle is won before it's ever fought." – Sun Tzu.
In the 1987 movie 'Wall Street', Michael Douglas' character, Gordon Gekko, uses quotes from The Art Of War to display leadership and mind-over-matter in his ruthless portrayal of a Wall Street broker. However, Gorden Gekko is unable to understand the true weapon of Tzu words. 
"A leader leads by example, not by force." – Sun Tzu.
Sun Tzu believed that a true leader uses their mind first and should embrace a winner's mindset, of a strong-willed warrior, and that should be viewed by his army to install the same in them. 
How many of us have had a bad boss, a poor supervisor? They say one thing and do another or lead by force. Sun Tzu knew to be followed into battle; he must be that warrior to inspire us. 
And Now? 
The Art Of War still has meaning in modern times. His words go beyond war and can inspire us in dark times, as we fight enemies even if those enemies are of our own making, changes in society, and can help to gain foresight on enlightenment on how to control our thoughts in times of crisis and hardship. 
The next time you find yourself in a situation that doesn't bode well, difficult or impossible, remember some of Sun Tzu's words, where you can read more of right here. If we change our perspective, learn to control the mind, then any battle in life can be met with thought strength. Any leadership problems can be remedied by being the one who does and not by shouting or entitlement. 
Knowing yourself is key to a happy life!
Nigel (PIN 7088)
Speak to Nigel!
Nigel is a friendly and open natural psychic who has is a warm and caring nature. He has lived in China and uses a lot of Chinese philosophy in his guidance. Nigel logs in regularly on Psychic Today, and he would love to give you a psychic reading! Contact him right here!
You can watch Psychic Today Live!
You can watch the show LIVE between 8 am and 10 pm on Sky Channel 680 or via our website and on our YouTube page!
Download our Psychic Today Companion App now!
The Psychic Today Companion App for all your psychic needs! Why not add it to your mobile phone via the following links;
To download from the App Store – click here.
Or download it from Google Play – click here.
To top up your credit or if you have any questions or queries, our friendly reception staff are available 8:00 am to 2:00 am GMT on 0333 335 0297. You must be over 18 years old to use this service, which is for entertainment purposes only. You must be the bill payer or have the bill payer's permission. We may send free promotional messages. 
Facebook
Text FACEBOOK and your question to 65511 for your free reading! (Usually £1 per message, max 3 messages per reply. One per person. CS: call 0333 335 0297. UK Only) Click on the link to our page and see our Facebook Live sessions right here!