Hidden Secrets Of Tarot Cards REVEALED!
We all know Tarot Cards, but how can a deck of 78 cards actually tell us anything at all? Surely the cards selected are random. So how is it that a psychic reading with Tarot Cards can often make us go "wow?"
Here we bring you some pretty amazing insight, which means there is much more to the Tarot than initially meets the eye with us at Psychic Today!
Complex Business
Take a close look at any Tarot Card from the Rider Waite pack, the Tarot of Marseille and more, and you will find you can look at any picture card for a very long time to absorb all the details in it.
The number, the image with multiple elements in it, colours that give out certain emotions, a suit or the meaning of a Major Arcana card, but guess what, that isn't all!
Once you start delving deeper, each Tarot Card has one or more hidden symbols. What part do these important hidden symbols play in your Tarot reading? Get ready to find out!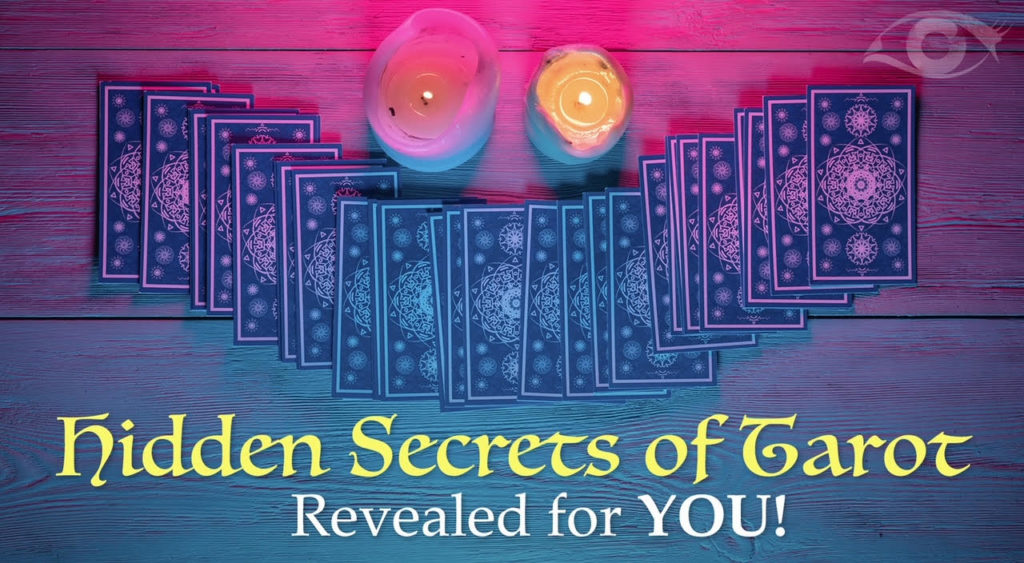 The Power of Symbols
Symbols have been used since time immemorial. Many of these are ingrained in our memories to recognise and understand the meaning of a symbol as soon as we see it. An example might be an upwards pointing arrow. We all know what that means! Most of the time, when we see this, our outward selves take it for granted, yet our inner self recognises this and sends us a message.
Other symbols are more complex and mysterious. One example of the use of more complex symbols is in Reiki Healing. Anyone can learn Reiki. The knowledge is transmitted from the Reiki Master to the pupil through the use of symbols. The pupil does not need to know what any of the symbols mean. Each of these symbols has different energies and allows the pupil to open up their own senses and act as a catalyst to allow the reiki energy to flow freely.
In short, symbols have different energies, frequencies and effects on us. They release previously hidden knowledge that we may or may not already store within our subconscious minds and can help give us a new understanding, a different view, or even a complete eureka moment!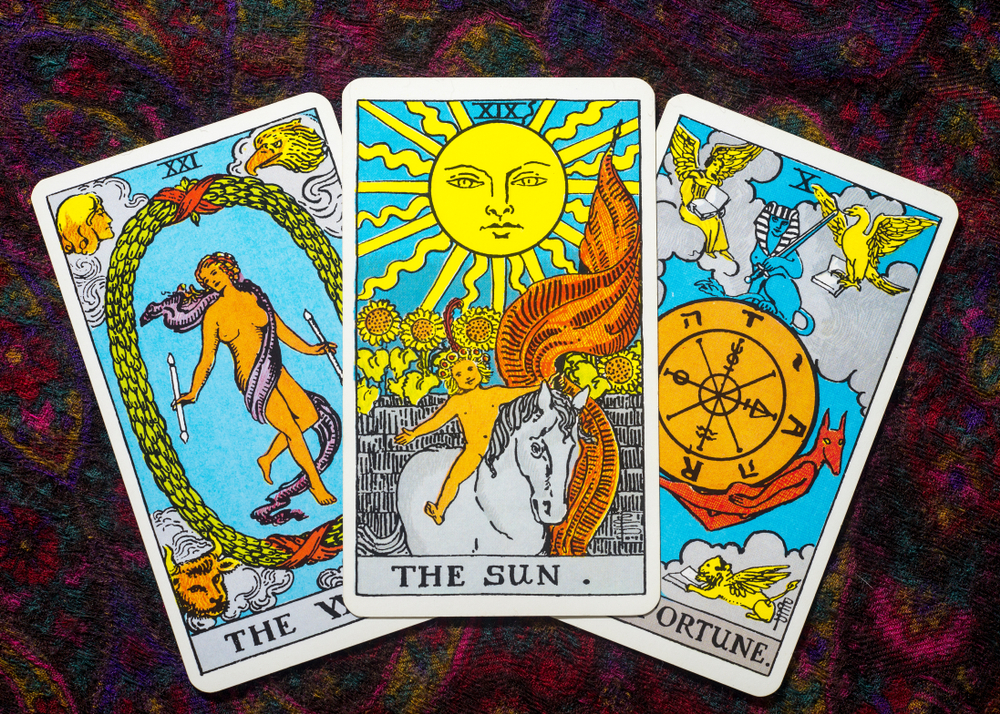 Releasing the Energies of Tarot Cards
In the Tarot, the symbols lodged in our subconscious minds play a leading part, which is why the Tarot can give enormous revelations. The symbols on the Tarot Cards act on the subconscious presence of the Tarot reader and enable them to see and understand things that have been previously hidden from them and which are directly related to the reading.
Even more extremely, we know that everything is energy. Thus, could it actually be possible that in a certain situation for a person with a certain energy, this energy actually resonates through the cards so that the correct cards can come to the forefront as part of a psychic reading? The mind boggles!
The Importance of the Subconscious
These days, we have become more and more aware of how the subconscious mind is present and plays a part in our lives. Everything we do, people, places and things we like and dislike, choices we make are based on our inherited experiences and those from our early childhood and beyond. And these memories and our very being and conditioning are all held within our subconscious minds.
In much modern psychotherapy, many holistic techniques and psychic readings, the subconscious is a basis for investigating the working of our inner selves, healing past pain and blocked areas, and moving forwards, making new and better choices with greater liberty. Often, we have the keys to unlock the doors to our subconscious ourselves. Elements of this are DIRECTLY connected to the hidden images on the Tarot Cards.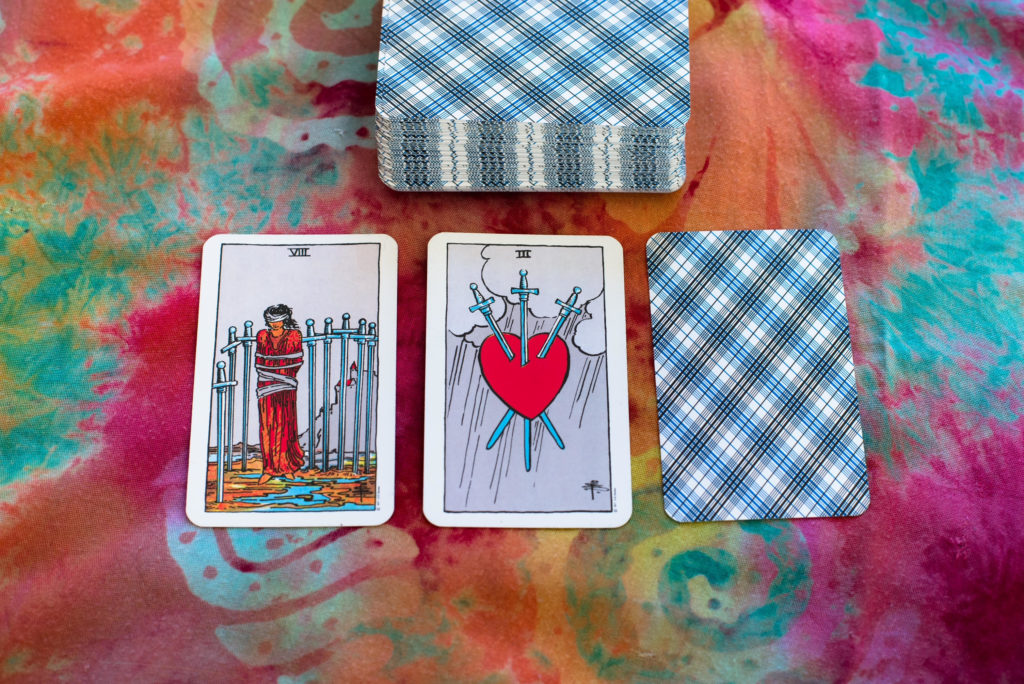 Tarot Card Symbols
Many of these symbols on the Tarot Cards are rooted in ancient Egyptian culture going back thousands of years. Hieroglyphs, Secret Codes from the Egyptian Book of the Dead, the Pillars of King Solomon's Temple, Symbols from the Kabbalah, Astrological symbolism. Each of these has its own energy and specific meaning.
A good example of a symbol could be a crossroads shown on a Tarot Card. Of course, the crossroads is not the main picture element on this card, but when reading the card, this symbol imprints on the mind of the Tarot reader and the reader intuitively understands that a decision will shortly be made by the client.
Another may be the infinity symbol above the head of the Magician on the Major Arcana card. This is one of the most powerful mathematical symbols and dictates infinite possibilities. In Tarot, it is the symbol of empowerment and endless opportunity. Again, this symbol is part of our subconscious understanding and is empowering in itself. It is a catalyst to say, "you can!"
Symbolically Yours
Symbols are symbols. Their meaning is their meaning, and their energy is their energy. People do not sit and argue over the meaning of a symbol. Sceptics have suggested that when people have a Tarot card reading, they can make decisions based on the information they get in their reading and merely form their own future. We would, of course, never argue with a sceptic, but on the other hand, we know about energy.  Energy can help make things happen!
So, the next time you have a Tarot reading, watch what happens next. Watch out for your subconscious is able to react in different ways. It's just one of the reasons that people go "wow" after a Tarot reading. The symbols are doing their work and showing you the way, as well as possibly helping make it happen too!
It's said that the shuffling of the cards is the earth, and the patterning of the cards is the rain, the beating of the cards is the wind, and the pointing of the cards is the fire. So that's of the four suits. But the greater trumps, it's said, are the meaning of all process and the measure of the everlasting dance! Did you know you can use Playing Cards as Tarot Cards? Find out more right here!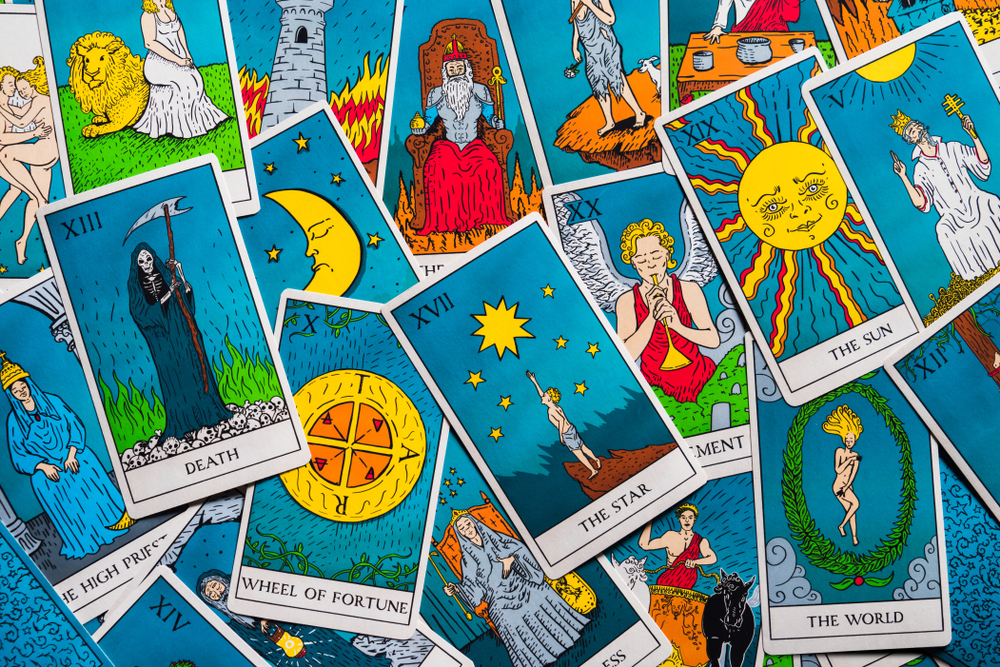 Speak to one of our Psychics!
We have a very experienced and friendly team of psychics with us here at Psychic Today! See who is available for YOU right now!
Select the psychic of your choice for an exclusive one-to-one reading! Speak to one of our  Trusted Psychics. Plus, you can watch us live right here!
Download our Psychic Today App now!
The Psychic Today App for all your psychic needs and get psychic readings on the go! If you haven't yet downloaded it to your mobile phone, you can do so by following our links here:
To download from the App Store – click here.
Or download it from Google Play – click here.
To top up your credit or if you have any questions or queries, our friendly reception staff are available 8:00 am to 2:00 am GMT on 0333 335 0297. You must be over 18 years old to use this service, which is for entertainment purposes only. You must be the bill payer or have the bill payer's permission. We may send free promotional messages. 
Facebook
Text FACEBOOK and your question to 65511 for your free reading! (Usually £1 per message, max 3 messages per reply. One per person. CS: call 0333 335 0297. UK Only) Click on the link to our page and see our Facebook Live sessions right here!