Witchcraft – The Craft of the Wise – with Rafael 
Witchcraft is often referred to as "The Craft of the Wise" The word Witch is thought to derive from the old English word Wicce and is believed to mean Wise One.
Depending on where you are in the world Witchcraft is practiced differently and may be referred to by different names. Wicca and Witchcraft are often mistaken as the same thing but are in fact two different things. Wicca is a religion that incorporates Witchcraft in its practice.
But Witchcraft itself stands alone it's simply like its name suggests a Craft….it's something that you do e.g casting spells. The practice of Witchcraft in and of itself has no religious structure it is completely natural in that regard however some Witches may choose to blend their spiritual/religious beliefs with their witchcraft.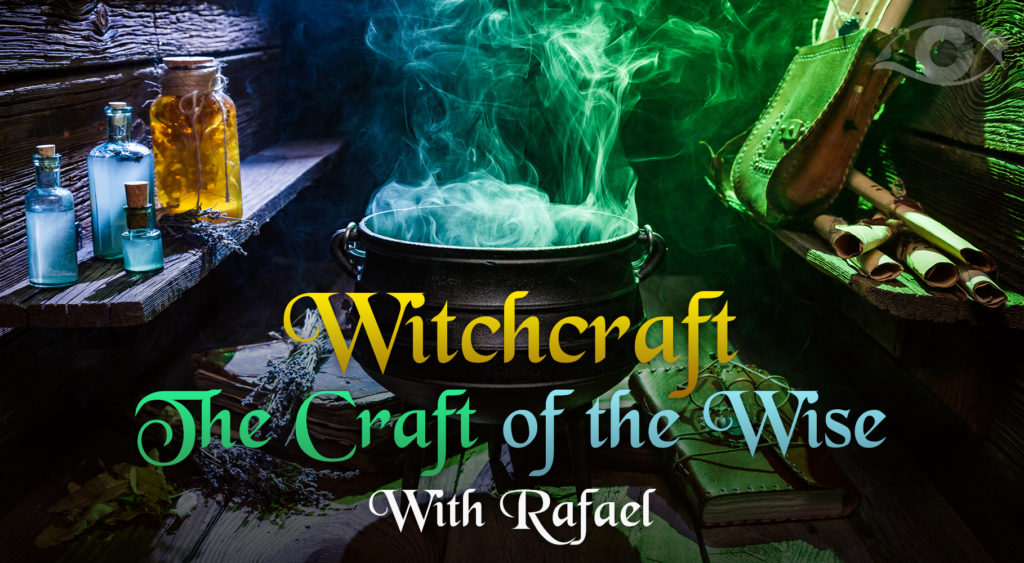 A Witches View of God
This will differ from Witch to Witch. Some Witches see the Divine simply as a great source of energy. But some Witches will see the Divine as the above but personified in both Feminine as well as Masculine form.
Whilst others again may see the Divine in the form of lots of different Gods and Goddesses. And some see the Divine as a mix of the above.
Having said that there are also Atheist Witches who don't believe in an external Deity but may see the power as something from within themselves psychologically.
Ethics in Witchcraft
There are no rules in Witchcraft though there are ethics that will be unique and individual to every witch. The most common being:
Whatever you send out will come back to you x3.

To not force people against their free will.

Do what you will but harm none.
These are not rules as such more like sound guidance. However, there are witches who choose not to adhere to or believe in the above this again all comes down to personal morals and ethics and responsibility of the Witch.
Hexing/Cursing is a debatable topic in the Witchcraft community. Some will Hex and Curse without thinking twice. While others are very much against it completely. Whilst others again would do it but only as a last resort.
Magic itself is neither good nor bad it is neutral the only thing that makes it good or bad is the intention of the Witch.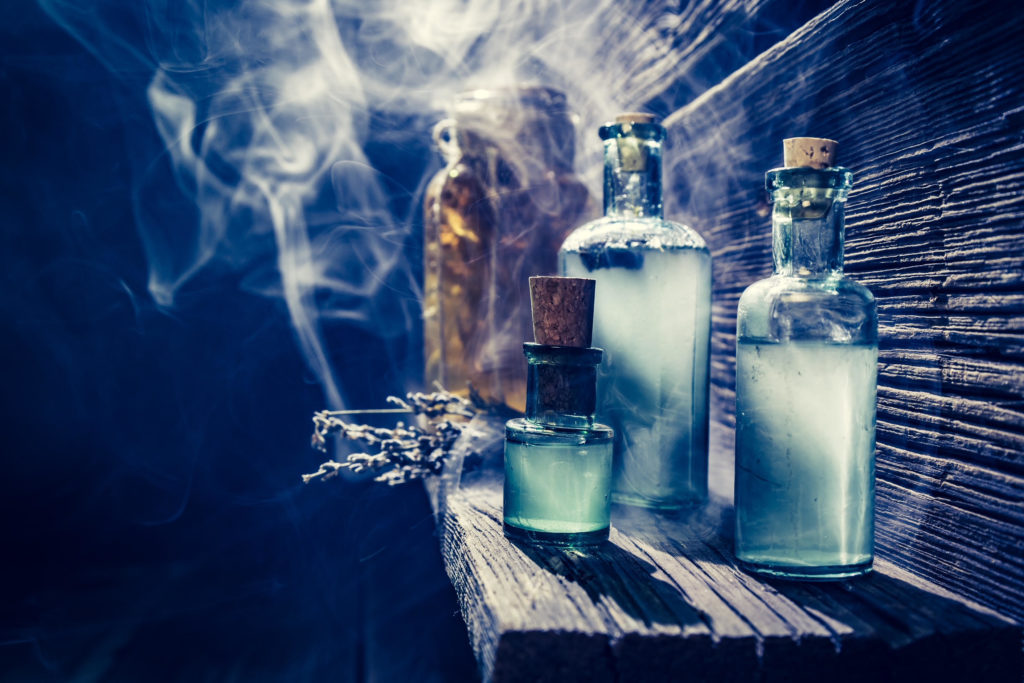 Different Types of Witches
There are many different types of Witches and forms Witchcraft can take below are a small number of the most common:
Solitary Witch = A witch who practises alone.
Coven = A group of witches working together
Eclectic Witch = A witch that likes to draw on spiritual ideas and beliefs from different religions, traditions and practices and mix and match them to make a spiritual path that works for them. 
Hereditary Witch = A witch who has inherited their knowledge of the Craft through a long lineage line most common being through the family but not always as this term can also refer to inheriting their knowledge through some other lineage line outside of that also.
Hedge Witch = A witch who is very simple and practical in how they practice. Where other witches may use special tools like a fancy cauldron, a special wand or a fancy goddess statue. A Hedge Witch will simply use a normal cooking pot, a kitchen knife or some dried herbs in the kitchen cupboard that they have either grown themselves or bought from the supermarket.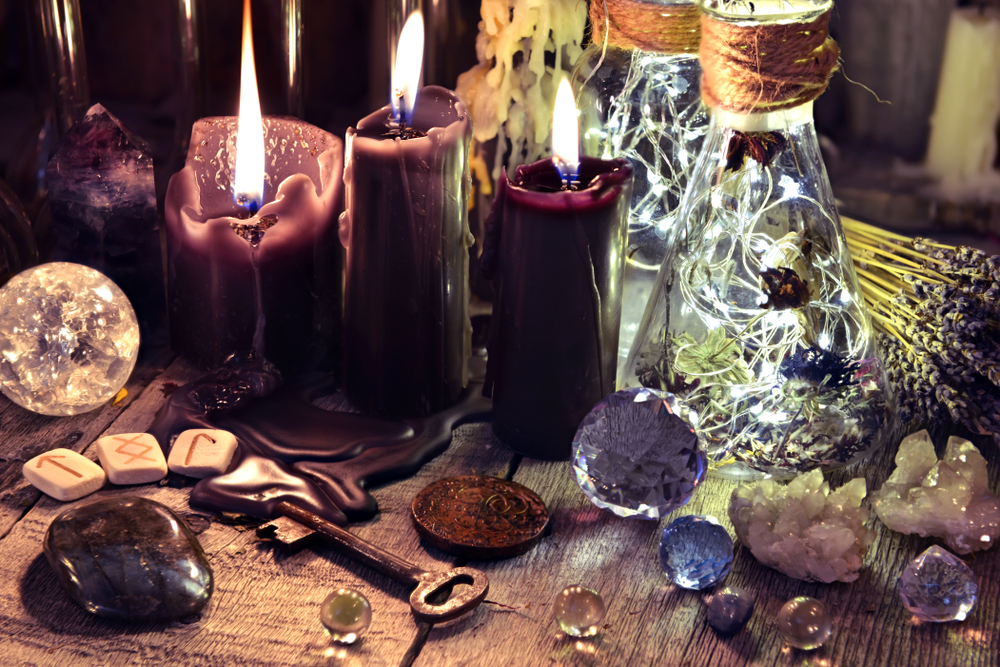 Tools of the Craft
Witches work with many tools in their Craft each being unique as the Witch practicing. Some of the most common tools you may find being used are as follows:
Altar = A space to layout magical tools and act as a point of focus for the witch. This can be as small and as simple or as big and elaborate as the witch needs.
Book of Shadows/Grimoire (may be referred to by other names depending on the Witch) =  A witches magical journal/Spellbook where they record their Spells, Tarot readings and other spiritual activities
Candles = used to either illuminate the working space or for different kinds of spells. Different colour candles will be used for different kinds of spells.
Morsel and Pestle = used to grind up magical herbs for herbal remedies and magical powders
Divination tools – Tarot cards, Crystal ball, Runes etc
Broom = No witches don't fly on them but rather use them to energetically cleanse the space before working a spell. They are also hung behind the front door of the house as a symbol of protection.  
Cauldron = used for many things such as holding incense, Mixing herbs, burning pensions (prayers/intentions written on pieces of paper then burnt). Also used as a symbol to represent the Divine feminine and the womb of the Goddess.
Athame a ceremonial knife/dagger. It is not used to cut anything physical but rather used to direct and send energy.
Wand = used for the same purpose as the Athame. 
Pentacle = a metal or wooden disk with a five-pointed star inscribed upon it (this represents the five elements of nature Earth, Air, Fire, Water and Spirit). It's placed in the centre of the working space and used to bless and charge objects for Spell work.
Connect with Rafael to Get a Psychic Reading!
Rafael is a Natural Psychic, who uses his psychic abilities to guide you using his Tarot Cards, Angel Cards, and Crystals. He can provide Mediumship Readings, Pendulum Readings, Past Lives, and Reiki and Spiritual Healing, as well as helping you with your own Psychic Development!
Download our Psychic Today Companion App now!
The Psychic Today Companion App for all your psychic needs! If you haven't yet added it to your mobile phone, you can do so by following our links here:
To download from the App Store – click here.
Or download it from Google Play – click here.
To top up your credit or if you have any questions or queries, our friendly reception staff are available 8:00 am to 2:00 am GMT on 0333 335 0297. You must be over 18 years old to use this service, which is for entertainment purposes only. You must be the bill payer or have the bill payer's permission. We may send free promotional messages. 
Get a TEXT Reading!
Our Trusted Psychics are dedicated to answering your questions. Simply select the topic you want guidance on, type your question and mobile number, and one of our top psychics will respond with your Text Reading.
Standard network rates apply to messages sent to 65511. You must be over 18 to use this service and have the bill payer's permission. You may receive free promotional messages. To opt-out text STOP to 65511. Service by Com & Tel. Helpline: 0333 335 0297.