Knitting Together Numerology Series
Looking At The Number 6 (six) – Love Makes The World Go Round
Number Six in Numerology is about home, family, community, nurturing, well-being. Some may say money makes the world go round, but for a six they need to feel at home, loved and comfortable. They wish this for others too, sometimes to their detriment. A little bit like the loyalty of a Taurus in astrology. Sixes can be so nurturing that they can forget about their own needs. Find out more about number six in numerology below.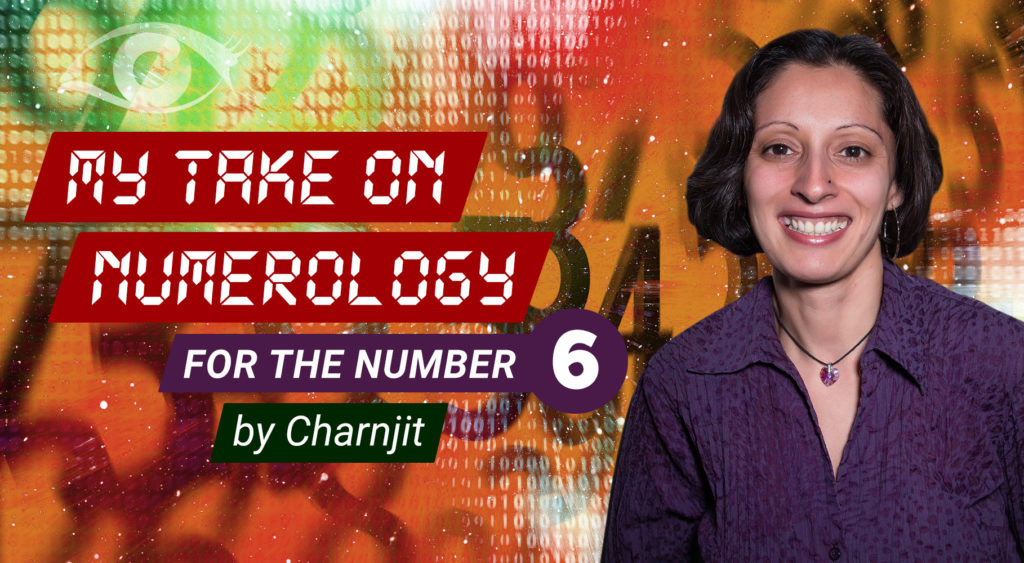 Six in the Family!
Conversely, they can be so "nurturing" that it can feel controlling or smothering to the one on the receiving end. All in all though, if you want love, commitment and a close-knit family/group then the sixes are for you. Talking of family, I find it fascinating that all my children (dog included) have the number six somewhere in their chart, whilst the only place I have six is in the name aspect of my chart. I have six out of the nine numbers in my name.
Ie. 
C – 3
H – 8
A – 1
R – 9
N – 5
J – 1
I – 9
T – 2
I have 1,2,3,5,8,9 – no four, no six, no seven.
Four, six and seven are my karmic lessons. I need to learn how to be grounded (4), committed (6) and deepen my knowledge, intuition and faith (7). Having 6 out of 9 numbers shows where I go for support – friends, family, communities. So, you see how it's worked out? I've been given exactly the family I need to learn my karmic lessons. Families are one of the strongest karmic ties we have, which is one of the reasons why a family gathering/reunion of mature adults can descend into them behaving like five-year-olds, pushing each other's buttons left, right and centre. 
Soul Mate Connections!
The same is also true of karmic connections, also known as soul mates. A person can appear in our lives out of nowhere creating a whirlwind of emotions and confusion. Some of these relationships can end just as suddenly invoking those same feelings once again. This can even repeat itself many times – days, months, years, sometimes decades later.
There are positive aspects to these connections depending on how we view them.  As the saying goes, people are in our lives for a reason, a season or a lifetime. Ultimately, time will tell which it is for you. That is part of the journey of life. Not easy, but never a dull moment. It's all part of who we are individually and as a collective.
Number Six in Astrology
The sixth house in astrology is ruled by Virgo. Virgo is mutable earth, ruled by Mercury. It is adaptable, likes to be of service, is attentive to detail and health, cleanliness and well-being. The sixth house also rules small animals and pets. It is about the day to day routines, those to-do lists!
Number Six in Letters
The letters that represent the number six are:
F – sixth letter (6)
O – fifteenth letter (1 + 5 = 6)
X – twenty fourth letter (2 + 4 = 6)
Having these letters in a name can indicate a need for love and commitment. A need to feel at home. Those whose name starts or ends with one of these letters (mainly the vowel O) will start or complete something with the utmost love and devotion. You will probably sense it and feel it. It's like your mum gently stroking your hair or face, or giving the nicest cuddle. 
When I look at the letters F, O, X – well they spell FOX! What comes to mind is the protectiveness of a fox over her cubs. 
Number Six in Tarot
In tarot, we have two major arcana that represent the number six.
VI – LOVERS (surrender)
XV – DEVIL (freedom)
The perfect depiction of what once was love becoming controlling as the images on the traditional cards show.
We have four minor arcana that represent the number six:
(1) Six of wands (victory)
(2) Six of swords (calm)
(3) Six of cups (reminisce)
(4) Six of pentacles (generous)
Using the keywords, we can create the following affirmation/meditation for number six:
I reminisce with a calm and generous heart. I let go and surrender all, thereby creating freedom. This is my personal victory. 💜
Number Six in Yoga
In yoga, the sixth chakra is the third eye chakra, also known as the ajna chakra. It is indigo in colour. All about clear vision and clear seeing. Seeing things as they truly are rather than seeing what we want to see. The eyes play an important part in yoga in the form of drishti or focused gaze. The drishtis allow us to soft-focus our gaze during a particular asana or meditation to help improve concentration, awareness or balance. They also exercise the six (yes, another six) eye muscles of each eye which allow us to look up, down, inwards and outwards.
The nine drishtis (with examples where to use) are:
(1) Tip of the middle finger – triangle (trikonasana)
(2) Tip of the thumb – warrior I  (virabhadrasana)
(3) Tip of the nose – easy pose, seated meditation – (sukhasana)
(4) Far around to the left – half spinal twist to the left (ardha padma matsyendrasana)
(5) Far around to the right – half spinal twist to the right (ardha padma matsyendrasana)
(6) Upwards/outwards – warrior II (virabhadrasana II)
(7) Navel – downward-facing dog (adho mukha svanasana)
(8) Tip of the big toe – seated forward bend (paschimottanasana)
(9) Third eye – alternate nostril breathing (nadi shodhana pranayama)
The third eye drishti (eyes closed, rolled upwards and inwards, focusing on the third eye) is used throughout a kundalini yoga practice (once you have seen what the teacher is demonstrating). It takes yoga to a whole new level. It increases trust and letting go.
Another yogic practice for the eyes is candle gazing or trataka. Using a candle or other focal point, sit and focus on it for as long as is comfortably possible without blinking. This may be seconds or minutes. Then close your eyes. Repeat this cycle as you wish. Finish with palming – rubbing your hands together to create warmth and placing cupped palms over your eyes to soothe and restore. Ideally, this is done in a darkened space.
The Seven Year Cycle
In our seven-year by seven-year chakra cycle, we are in our seven-year third eye chakra phase between the ages of 35-42 and 84-91. We are in the "double third eye" chakra energy between the ages of 40-41 and 89-90. This is a phase where we start to see things more clearly. More for what they are. We might also feel the influence of our maturity number at around age 35 (add up all the numbers of your full name to your life path number and reduce). My maturity number is 7. It is also one of my karmic lessons. I started learning numerology from a book gifted to me when I was 35! At around 36 we have our third Jupiter return and our second north node return.
It can feel like quite a destined time where we are pulled to what fulfils us and doors or opportunities open for us in weird and wonderful ways to nudge us along our path. I was 36 when I started working at Psychic Today!  They say that life begins at forty. Personally, for me reaching 50 was the biggy but that's probably because my 40's were spent wrapped up in the motherhood bubble. It's all-consuming. But at 40-41 that double third eye chakra energy, brings the opportunity for a clearer view of what we truly want from life and how to go about making it happen.
Other Number Sixes
Sixth sense
Insects (six legs)
Beehive
Hexagon
Snowflake
Dr Emoto's love and gratitude water crystal
Star of David
Hexadecimal colour codes – made up of six letters/numbers
Six in Quotes
"We must begin by learning what it means to have enough… to feel gratitude for having been born on a planet so rich in nature and gratitude for the water that makes our life possible. If you open your eyes you will see that the world is full of so much that deserves our gratitude. When you have become the embodiment of gratitude, think about how pure the water that fills your body will be. When this happens, you, yourself will be a beautiful shining crystal of light" ~ Dr Masaru Emoto (Messages From Water).
"Everything we hear is an opinion, everything we see is a perspective, not the truth" ~ Marcus Aurelius
"Learning lessons is a little like reaching maturity. You're not suddenly more happy, wealthy, or powerful, but you understand the world around better, and you're at peace with yourself. Learning life's lessons is not about making your life perfect, but about seeing life as it was meant to be" ~ Elisabeth Kubler Ross
"I'm not concerned with people seeing me in a certain way. Some people see me as a kid, some people see me as an adult. But I'm seriously not going to complain about how anybody sees me, as long as they see me." ~ Taylor Swift
Thank You for Reading
Well, that's my take on the number six in numerology. I hope you enjoyed it. I'll leave you with a corny joke:
"Why was 6 scared of 7? 
Because 7, 8, 9!" 😁
The next blog in the Knitting Together Numerology Series: Number 7 (seven) – IKR (I know right?!)
Wishing you much love 'n' light,
C xx 
Connect with Charnjit
If you enjoyed this numerology blog, get a more in-depth numerology reading with Charnjit herself. Using your date of birth, she can tell you what to expect and what may develop for you. She can also use cards, her natural psychic senses and much more.