Rebirth – Spring Into Action – Top 10 Tips
Namaste, I thought that we can look at this topic and what it may mean to you? Does the word "rebirth" conjure up pictures of revival, reinvigoration, or spiritual renewal? However, usually, to get to the point of this we may have to look at the "death of" or "endings" and beginnings otherwise known as a "rebirth". Please read on below!
Don't forget you can watch us LIVE on television on Sky Channel 680, or via our website, PLUS our Facebook page for special Live sessions to interact with your questions for FREE with our psychics!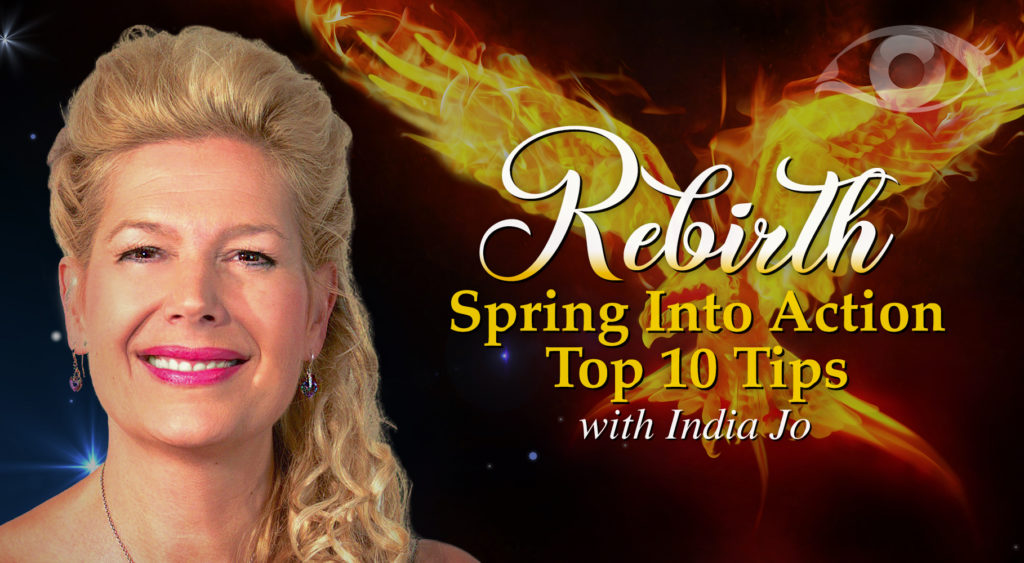 Rebirth
The word rebirth can mean various things depending on what your belief system or religious background you may come from. Some believe that when we pass over from the physical, that our soul or consciousness migrates and is eventually born again in the form of another life. That in which we come to learn new life lessons and experiences, all of which allow our soul or consciousness to develop and grow with each passing lifetime.
Rebirth is also about letting go. Holding on to those things that drag us down. Letting go is the hard part, no matter the situation, but once the weight is lifted, the feeling is most welcome! Let it go gradually, like a little butterfly on the end of your fingertips. Just gently flapping its wings away from you and your life. Reset, restart and rebirth.
Top 10 Tips
So here are my top 10 tips to allow that rediscovery of your own self and to allow you to spring into action. In order to have that rebirth feeling, look at the many things you can apply in which to achieve it. Rediscover and revitalise yourself with some simple and effective tips to live your life in the way you deserve!
1 – Allow Change
Sometimes the ending of something can feel so big that it hurts our soul. However, I like to view an ending or letting go of something as a positive, hindsight can be a wonderful thing. Not all of the times can we know what is to come, maybe go with the flow and be accepting of one's lot. I totally believe that everything happens for a reason.
2 – Trust
This might be easier said than done, here is a little example for me from my past. When I decided to give up my regular job to dedicate to this work, it felt good, almost a sense of relief to make that decision. However, I was also filled with trepidation at the prospect of how I would earn a crust and provide for my family. I had to put a great deal of trust in the universe and to practice what I preached.
Which was to view myself as not coming from lack of abundance, lack could not even come into the equation or else I knew that it would not work. I certainly could not give into listening to any doubtful concerning words given to me by meaningful loved ones. So "trust" played a massive part in the process.
3 – Be Gentle With Yourselves
Maybe some of you have lost loved ones this last year as I have. Be gentle and patient with yourself and your grief allows the process, in whatever form this takes. Maybe you have undergone the ending of a relationship or the ending of a work or job role.
I know that personally speaking, when I have had the ending to a relationship this has left me feeling physically ill with how sad and bereft I have been left feeling, indeed, the pain has hurt at the solar plexus level. So I can truly empathise with any of you that are currently going through any of this or has done in the past, however, remember this next tip:
4 –
Every Cloud Has the Opportunity to Have a Silver Lining
Where there is an ending or a door closing there is the chance of a new beginning and a door now has the opportunity to open. It is not good to leave the old door open and one leg in and one out, take the plunge and embrace the changes for the good. Trust that this is part of the learning, it is YOUR life experience, it is part of YOUR life journey. Embrace the changes.
5 – Be on Purpose – Small Steps Make Great Strides
Every step we make is a step closer to our true dharma. The implication of dharma is that there is a right or truth for each person to carry out their lives in order to serve both yourself and others. Dharma is closely related to the concepts of duty and selfless service. The word dharma comes from the Sanskrit root word dhri which means "to hold" "to maintain" or "to preserve". Dharma referred to the cosmic law that was to create order to the universe from chaos this may be a hard concept to grasp. However, it roughly translates as "right way of living" on an individual level, dharma can refer to a personal mission or purpose. 
Traditionally, an individual's dharma is thought to be pre-determined, for example to Hindus, all entities have their own dharma; so, the sun must shine, the bees must make honey, the trees make Oxygen, so on and so forth. The result of living in this "right way" is believed to be self-actualisation and enlightenment. When your life is aligned with your dharma, it brings a sense of joy and fulfilment.
6 – Reach Your Goals, Be Self-Actualising
I'm quoting a little Abraham Maslow now and his "Hierarchy of Needs" which is to complete realisation of one's potential and the full development of one's abilities. Plus appreciation for life and is at the top of the pyramid after basic bodily and ego needs. Not everyone, however, reaches this.
7 – Don't Be a People Pleaser
Which way feels right for you? Do you have a pen and paper to hand? Maybe write down your thoughts as we delve into endless possibilities. Do you feel that you are "on purpose" if not, how can you bring about change? Write your thoughts and ideas down, maybe break them down, so what feels right for you?
Are you fulfilled with what you do and what you are about? Be really honest with yourself? How can you bring about the changes necessary for you to be "on purpose" do you like yourself? Do you enjoy your work, your relationship? Now write down all that you would like to change and then how you might bring these about….
8 – Rejuvenate – Be a Pheonix
I simply could not cover this topic without talking about the Phoenix. This is a long-lived bird associated with Greek mythology, this beautiful bird cyclically regenerates or is born again.  It is associated with the sun – a phoenix obtains new life by arising from the ashes of its predecessor. Some legends say it dies in a show of flames and others that it simply dies and decomposes before being born again.
So maybe, you can sit and visualise with me. Take a deep breath and visualise letting go of all of anything that has kept you off purpose and needs to be "let go". Visualise any negative thoughts or words going into a pile safely in front of you whilst sitting on a beach with the tide gently ebbing and flowing.
The sun gently shining down feeling warm against your skin, keep on adding to your pile until everything you wish to let go of is in front of you. Imagine it turning into an old tired phoenix, a sudden gust of wind turns it alight in the sunshine and as the wind gently blows and so it turns to ashes.
As the ashes blow around like a whirling dervish it now rises and turns into a new phoenix which you are now in unity with and are rising out of the ashes together. You deserve the very best, and so it is, so mote it be, it is done.
9 – Be Brave, Revive and Re-Awaken
After making notes, honouring your energy level, self-reflecting and deciding to make any necessary changes to bring about self-actualisation. Wake up and smell the roses! Thank the universe for all the blessings you have within your life and also ensure that you are doing all that you can for optimal rest and sleep. Give yourself permission, you are just as important as the next person. This is so very important, making the correct healthy lifestyle changes pertinent to your situation. Be adaptable and above all be kind to yourself, allow yourself to regain your "joie de vivre".
10 – Everything in Life Starts With You
Chose to bring about the changes that are necessary. If things are not going quite how you would like them to or you are feeling overwhelmed, stuck in a rut, frustrated, upset, then start with you. Only you can bring about the necessary changes that you require. So once you have made that list, go on, what are you waiting for. Choose to make that first step to making the changes you need to bring about your Dharma and the self-actualised person that you deserve to be. Nurture yourself, love yourself and create that life you want, you are so worth it. Be Self-fulfilling. In love and from Light. 
Love and Light 
Thank you for reading about my take on Rebirth. Don't forget, if you missed my previous Blog on Self Reflection, not to worry. You can read it here!
Thank you!
India Jo xx
Speak to India Jo!
India Jo is an empathic psychic who also works in the realms of Reiki and Angelic spiritual healing. She has a very open, caring and friendly nature. She makes regular appearances on Psychic Today. India Jo would love to give you a chakra reading too! Contact her right here!
You can watch Psychic Today Live!
You can watch the show LIVE between 8 am and 10 pm on Sky Channel 680 or via our website and on our YouTube page!
Download our Psychic Today Companion App now!
The Psychic Today Companion App, for all your psychic needs! If you haven't yet added it to your mobile phone, you can do so by following our links here:
To download from the App Store – click here.
Or download it from Google Play – click here.
To top up your credit or if you have any questions or queries, our friendly reception staff are available 8:00 am to 2:00 am GMT on 0333 335 0297. You must be over 18 years old to use this service, which is for entertainment purposes only. You must be the bill payer or have the bill payer's permission. We may send free promotional messages. 
Facebook
Text FACEBOOK and your question to 65511 for your free reading! (Usually £1 per message, max 3 messages per reply. One per person. CS: call 0333 335 0297. UK Only) Click on the link to our page and see our Facebook Live sessions right here!