Magical Dolls: Making & Working with Poppets – By Rafael
Here is fabulous Rafael's brilliant workshop on Magical Dolls, recently shown live on Psychic TV. Read on below to see how you can use one to heal and shape your life to how you want it!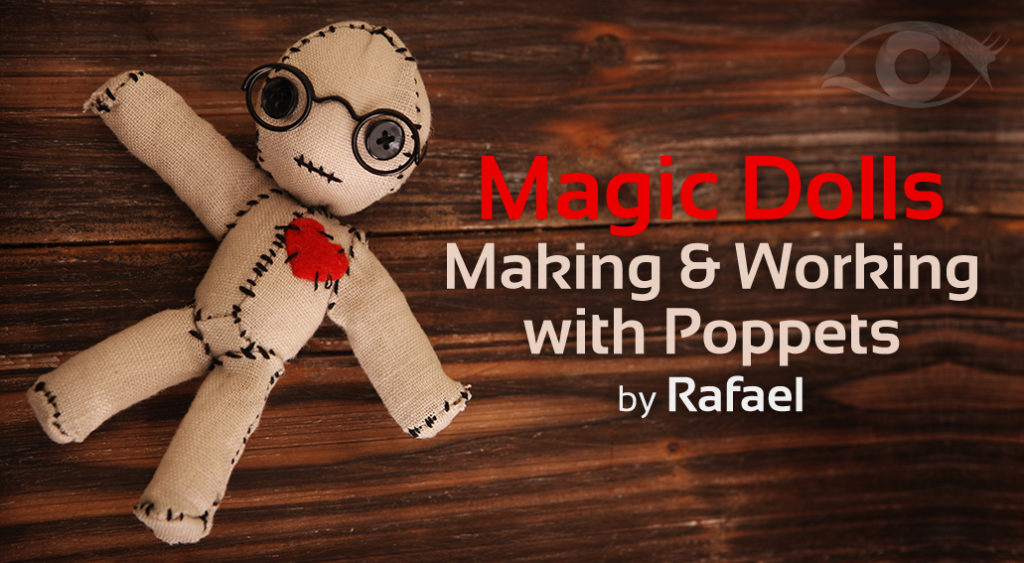 Introduction to Magical Dolls
Poppets, also known as Spirit dolls, have been used for hundreds of years. You might be better acquainted with a Voodoo doll, which is another form of Poppet. 
They are made for a variety of reasons, both to attract and to banish. Also, they can be used for healing purposes. 
You can make these dolls using a variety of different materials, such as clay, natural items, fabrics or whatever you have at hand.
They can be big and elaborately decorated, or as small and simple as you need them to be. 
Remember, it's not about the materials used or the size of the doll. What matters is the intention you hold and focus on as you're making the doll, this is what sparks magic.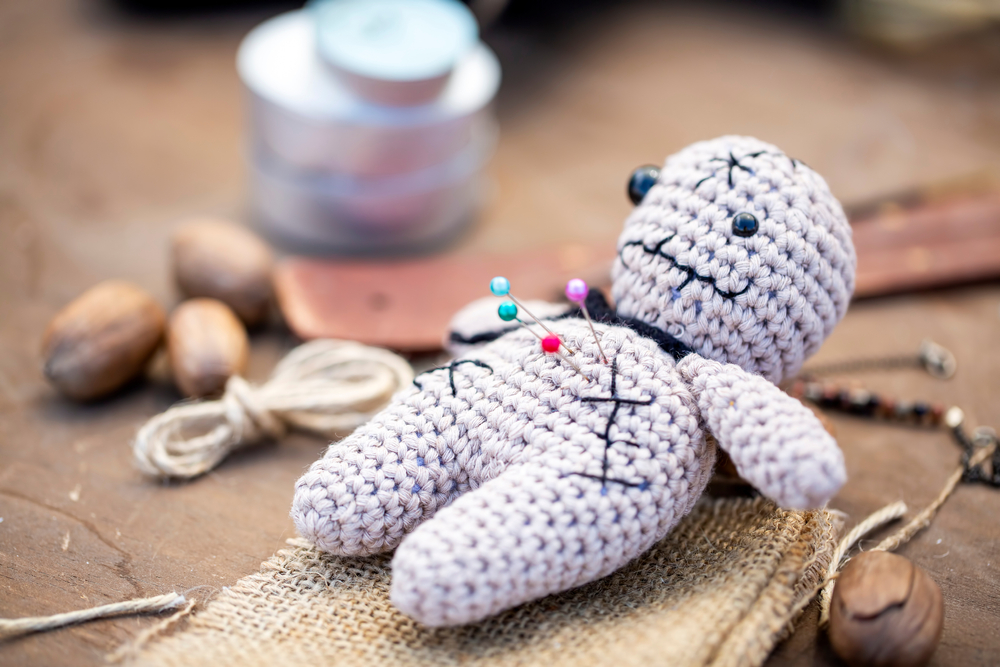 How to Make Your Doll
This is a simple way to make a Poppet, but it is not the only way! Don't be afraid to experiment and get creative with different techniques and ways of working. 
(1) Take your chosen material (you will want the colour to match your intention – see the list below!)
(2) Draw and cut out the shape of a person (this doesn't have to be perfect, just the basic shape)
(3) Glue or sew around the edges, combining the body shapes together. If sewing fabrics, why not match the colour of thread to your intention for added magic! 
(4) What you fill the doll with is up to you. Here are a few suggestions of the most common:
Dried herbs that correspond to your intention (we will include a list at the end)
Crystals whose energy aligns with your intention (we will include a list at the end)
Nail clippings, a lock of hair, a photograph – if the doll is for someone else, make sure to get permission first!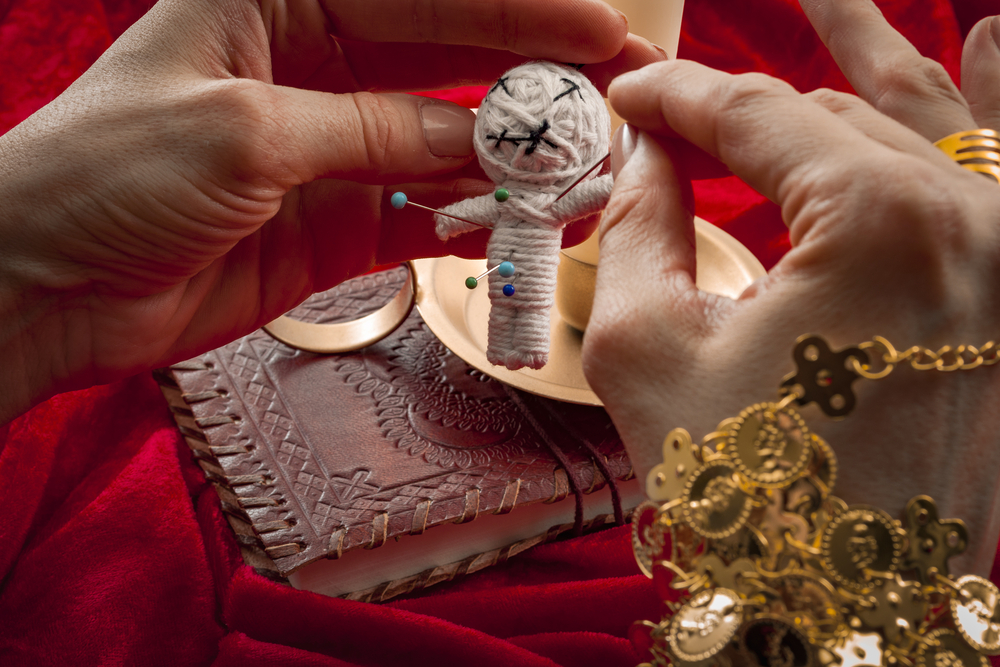 Don't Forget!
*WARNING*
Restrain from using these items in love spells to target a specific person, as this can backfire and be very difficult to untangle yourself from later.
It's much better to simply add your own hair/nails/photo and ask the Universe to bring you the right person/relationship for you with the qualities you want rather than target someone specific.
(5) Add a Pention. This is a written prayer or statement of intention, describing what you want the doll to achieve. 
(6) As you add each item to the doll, hold it in your hand and visualise the intention of what you want each item to do. After you have placed all the items inside, glue or sew up the rest of the doll. 
(7) Hold the finished doll in your hand. Whilst visualising, state your intention. 
Your doll is now alive and ready to work! 
Feeding the Dolls 
Every now and then it is important to 'feed your doll.' This means sitting with it and giving it energy with your attention. Here are some ways you can do this:
Meditation and visualisation whilst holding your doll.
Praying or chanting over your doll.
If you are using the doll to do healing for someone else, hold it between your palms and visualise sending healing light to that person.
By using pins, you can direct the healing light to a specific area!
Remember: Pins are used but not in the horrific ways they are portrayed in movies. In fact, Voodoo and Hoodoo followers use these pins as a type of spiritual acupuncture.
You can feed your doll as much as you please. Remember, the doll itself is not enough to bring your intentions to reality, you have to still take practical action to help the magic along.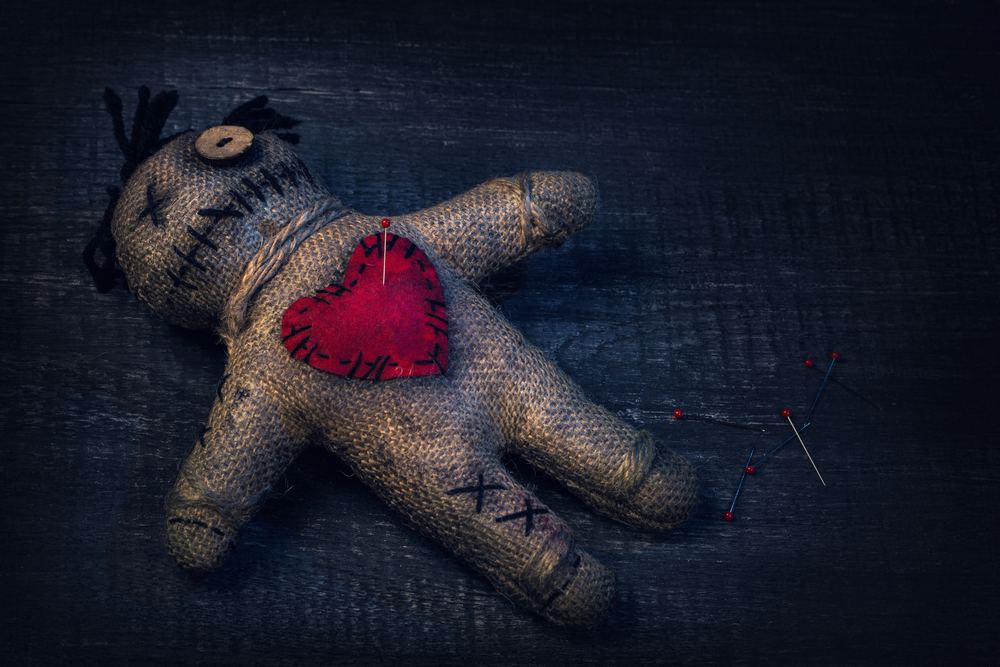 When Your Intention is Manifested Through Your Spirit Doll
When your purpose for the doll has been completed, you can then deprogramme the doll and release its magic. 
You can simply hold the doll between your hands and visualise the magic being released, while saying a prayer or statement of intention over the doll, affirming that the doll is deprogrammed.
If you have used items belonging to someone else, I recommend you do as stated above and then you can unstitch the doll and take it apart. This ensures the connection to the other person has been discontinued.
If you've made a protection doll for the home you may not wish to deprogramme it but instead, simply keep charging it with energy every now and then to keep the magic flowing!
Suggested Colour, Herb, Crystal Correspondences
Colour
White – all Purpose can be used as a substitute for any colour.
Black – Protection, Banish negative energy.
Red – Passion, Drive, Sex.
Pink – Romantic Love, Friendship, Self Love.
Green – Healing, Prosperity, Business Success.
Gold – Prosperity, Success.
Blue – Healing, Communication.
Purple – Protection, Heightened intuition/Psychic abilities.
Herbs
Rose Petals – Romantic and Self Love.
Mint – Prosperity.
Bay Leaf – Luck, Prosperity.
Cinnamon – Prosperity, Passion, Love.
Sugar – To sweeten a situation.
Camomile – Healing, Peace.
Lavender – Healing, Peace.
Coffee – To bring speed to a spell.
Crystals
Rose Quartz – Romantic and Self Love.
Citrine – Prosperity.
Clear Quartz – All-purpose (you can use it as a substitute for other crystals).
Amethyst – Protection, Heightened Intuition, Peace.
Garnet – Passion, Sex, Drive.
Connect with Rafael to Get a Psychic Reading!
Rafael is one of Psychic Today's Psychic Readers and uses his psychic abilities to give insightful, inspiring Psychic Readings. He offers you guidance to move forwards in a positive direction. He works with Tarot Cards, as well as Crystal Balls, Runes, and Tea Leaves to help guide you!
Download our Psychic Today App now!
The Psychic Today App for all your psychic needs! If you haven't yet added it to your mobile phone, you can do so by following our links here:
To download from the App Store – click here.
Or download it from Google Play – click here.
Psychic Today is Here For You!
Psychic Today is on a mission to continue providing the very best psychic advice. Now we have more ways to reach our trusted psychics, we have dedicated ourselves to answering your questions.
You can ring them via our EasyCall feature, found on your chosen Psychics profile. Text our psychics through our Text Reading page. You can also send IM's directly to the live stream via our App.
We have made it easier for you to get in contact with our psychics, and they will not disappoint!