Manifest a Valentine's Date!
This is for all those singles out there and those in a complicated 'situationship' for Valentine's Day.  I understand that this time of year can be challenging. 
Your Soulmate hasn't materialised, your Twin Flame is with their Karmic Partner and even the cat seems to be ignoring you. But don't worry I got your back. 
I am going to give you some techniques to help you manifest a date for Valentine's Day.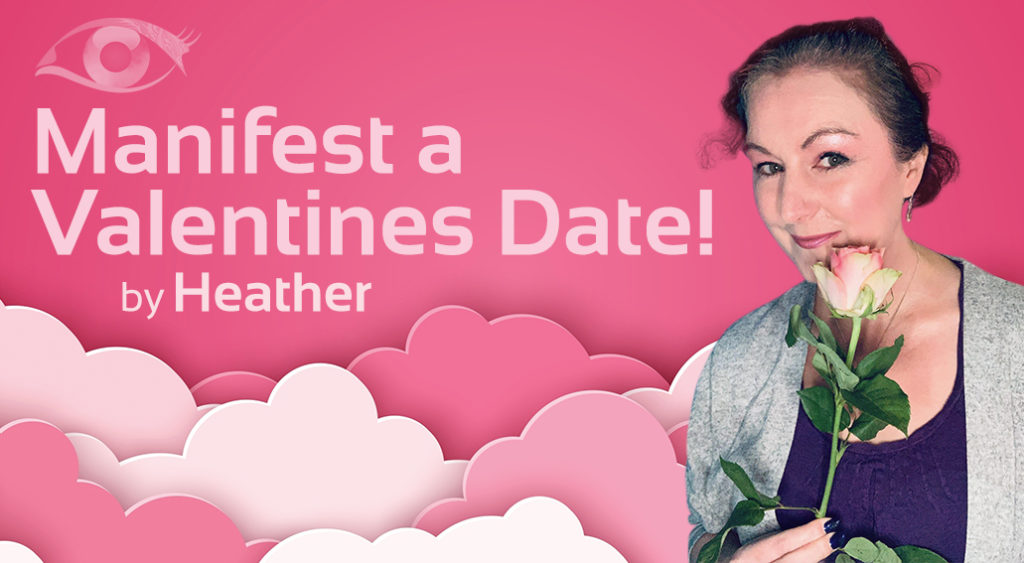 Know Your Worth
You are a beautiful soul and deserve happiness. Being in the energy of self-love is powerful. It sends a message out to the universe that you know your worth and are being your authentic self. 
You have learnt your lessons and are now ready to bring something new, positive and wonderful into your energy. Treat yourself to something new. It doesn't have to be big or expensive as long as it brings you joy!
I would recommend repeating the following affirmations daily:
'I am love.  I love me.  I forgive myself for allowing others to make me feel less.'
'I deserve to receive love from others.'
'I invite love towards me.'
Repeat these affirmations once a day (twice if you can), and imagine yourself surrounded with soft pink colours, as either a bright light or a soft mist.  Allow a few moments to let that pink light fill up your Aura.
I recommend carrying a piece of Rose Quartz or Amethyst to promote calm and unconditional love within your energy in the run-up to Valentine's Day.
Universal Ordering
This is super simple to do and I have talked about it many times on the show and in a previous blog. As always I like to incorporate colour into Universal Order to add some potency to your intention.
On a piece of pink paper, or using pink ink, write a straightforward note asking for a Valentine's Date. The key here is simplicity, don't be specific regarding the details or even who you would like to go on a date with. 
Just be straightforward and trust that the Universe will provide you with your heart's desire, that which is for your highest and greatest good.
Then, just place the note under your pillow. You may even receive a prophetic dream about what or who is to come – fingers crossed!
Ask Your Guides
Don't forget – your Spirit Team are always on hand to offer assistance, guidance and some nice surprises.
What you are manifesting here is a date, not a soulmate or twin flame – although we don't always know what is being laid out and planned for us behind the scenes.
A date with a lovely person could be a welcome distraction for you right now. So be open to the experience – you never know, you might have fun!
Candle Magic!
I love candle magic because it's very straightforward. Light a Red or a Pink Candle and say;
'I light this candle in purest vibration.  Bring forth my Valentine's.'
Spend a few moments visualising getting ready to go out for Valentine's Day. Try to incorporate items such as red roses and boxes of chocolates that you would typically associate with Valentine's.
These reinforce your intention and let the Universe know exactly what you're going for.
Daily Rituals – Law of Attraction
Along with the daily affirmations, there are some other things that you can do daily to raise your vibrations and attract a date.
Burn Rose Incense or Rose essential Oil or a Rose scented candle. It promotes unconditional love to raise your positive energy.
Carry an Amethyst, Citrine, Black Obsidian or of course a Rose Quartz. These crystals all work on raising your vibration, grounding your energy and allowing your manifestation to come into reality.
I hope that you find these useful, let me know in the comments which method you might try. Above all, I wish you a wonderful, safe and loving Valentine's Day.  
Love & Light Heather x
Connect with Heather!
Heather is a Natural Psychic, who uses her psychic abilities to guide you using her Tarot Cards, Angel Cards, and Crystals. She can provide Relationship Readings, Love Readings, as well as helping you with your own Psychic Development!
Speak to one of our Psychics!
Psychic Today has a highly experienced and friendly team of Natural Psychics, all of whom can provide you with unique guidance with any dilemmas you face in life! See who is available for YOU right now!
Select the psychic of your choice for an exclusive one-to-one reading! Speak to one of our  Trusted Psychics. Plus, you can watch us live right here!
Download our Psychic Today App now!
The Psychic Today App for all your psychic needs and get psychic readings on the go! If you haven't yet downloaded it to your mobile phone, you can do so by following our links here:
To download from the App Store – click here.
Or download it from Google Play – click here.
To top up your credit or if you have any questions or queries, our friendly reception staff are available 8:00 am to 2:00 am GMT on 0333 335 0297. You must be over 18 years old to use this service, which is for entertainment purposes only. You must be the bill payer or have the bill payer's permission. We may send free promotional messages. 
Psychic Today is Here For You!
Psychic Today is on a mission to continue providing the very best psychic advice. Now we have more ways to reach our trusted psychics, we have dedicated ourselves to answering your questions.
You can ring them via our EasyCall feature, found on your chosen Psychics profile. Text our psychics through our Text Reading page. You can also send IM's directly to the live stream via our App.
We have made it easier for you to get in contact with our psychics, and they will not disappoint!