What is Cleansing and Protecting? – with Jules
Cleansing and Protecting is an ancient practice based on positive intentions. A practice which can energetically, emotionally and physically transform your mind, body, spirit and home or work environment.
These rituals have been used for thousands of years in various spiritual and religious practices worldwide. In fact, important holy dates, celebrations and life cycles all incorporate the practices in some way.
To cleanse and protect is a natural process and behaviour of all species. We as humans instinctively and intentionally cleanse, prepare, and protect for spiritual, practical, and emotional reasons.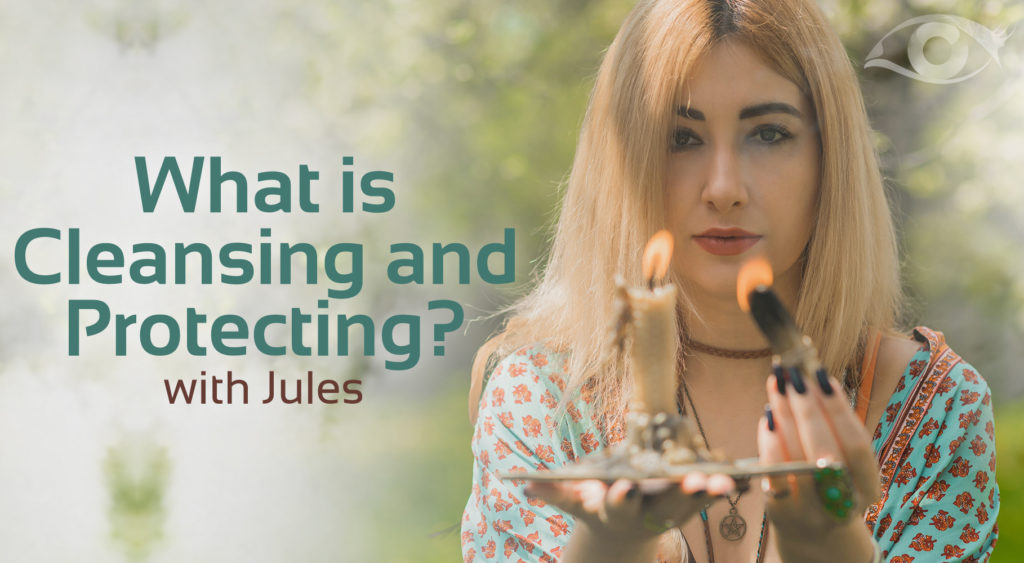 Cleansing and Protecting Examples
Prime examples of Cleansing and Protecting practices are found in the eastern tradition of Geomancy, creating balance and harmony within the home and work environment.
Feng Shui (Wind & Water) allows for the movement and flow of energy (Chi) while focusing on specific areas of space that correlate to life aspects such as health, wealth, work and love.
In Pagan and Wiccan practices, Salt is synonymous with protection and prosperity. A Circle of Salt is an ancient and well-known protective barrier method. All practices require positive and purposeful intentions.
What You Will Need For Cleansing and Protecting
Sea Salt or Rock Salt (Not Table Salt or Cooking Salt).
Vessel for the Salt and Crystals (e.g. jar, tub, vase, glass, box, plate, tray, bowl, cup, spray bottle).
Crystals – Black (Protection) and White/Clear (Cleansing) e.g. Smokey Quartz, Black Tourmaline.
Water (Spring water / Rainwater / Boiled and Cooled Tap Water).
An open mind with an open heart and good intentions.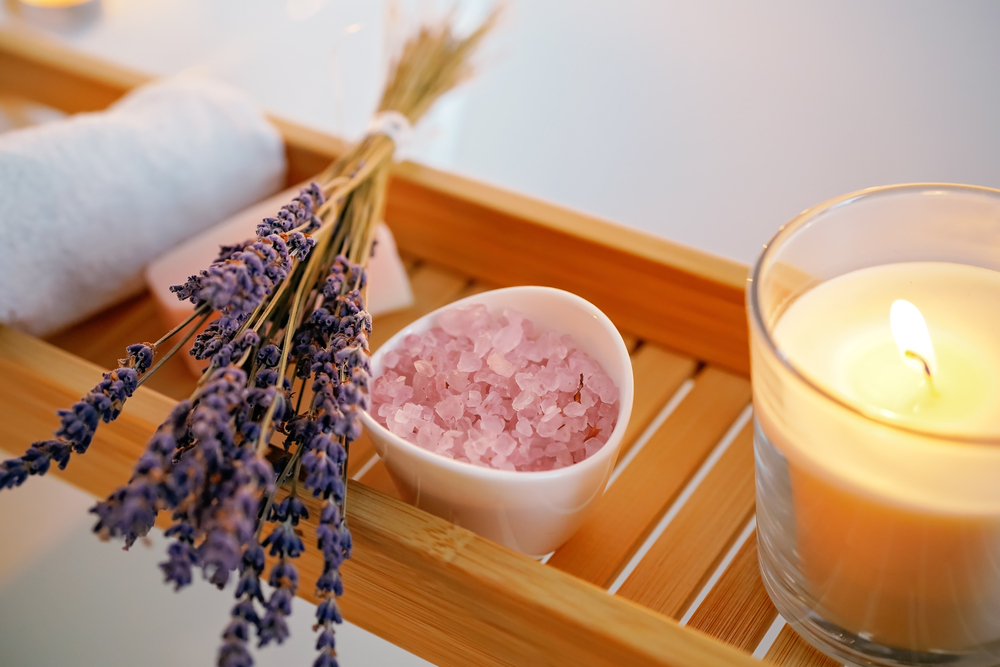 What Can be Cleansed and Protected?
Cleansing and Protecting practices can be applied to all aspects of your life, whether that is emotional, physical or practical matters. Such a natural practice can create a sense of balance and optimism.
You can cleanse and protect yourself, your home, your workspace, your belongings, your family and pets (visualise your loved ones or use photos) and your vehicle – the possibilities are endless!
Having the courage in your convictions and belief in your decisions is a powerful energy. Implementing boundaries (what you will and won't allow) and sticking to them, is another cleansing and protective method.
Ultimately, you decide what can be cleansed and protected. It's a personal choice. The expression 'Tidy house, tidy mind' is relevant to this practice and doesn't it feel good to be in a clean, tidy and fresh space.
When Should you Practice Cleansing and Protection?
There is no right or wrong time to practice Cleansing and Protection. You can let your intuition guide you or you can work with specific situations, dates and planetary energies if you wish.
Here are some of my preferred timings for Cleansing and Protection for specific reasons:-
Full Moon (every 28days approx.) = Release, cord-cutting, letting go, clearing out (physically, mentally, emotionally).
New Moon (every 28 days approx.) = Attract, create, manifest, new beginnings, wishes and allow openness and ideas that flow.
Seasons (Quarterly) = Spring Equinox (20th/21st March), Summer Solstice (20th/21st June), Autumn Equinox (20th/21st Sept), Winter Solstice (20th/21st Dec) = prepare, cleanse, fresh starts, growth.
Friday / Venus Day = Venus the Goddess / Planet of Love and Wealth, ruler of Friday – for all things: emotional, heart-centred, relationships, material, prosperity and abundance.
Your Birthday = Embrace your new solar year and all its possibilities, cleansing and protecting your energy and manifestations.
Cleansing and Protecting Methods
My Cleansing and Protecting practices are simple, easy to do and powerful. I believe that simplicity is the best, purest form of practice, rather than elaborate and complex methods.
Bigger isn't always better in my opinion and I prefer to work with positive intentions, simple methods and tools that are easy to obtain. This is why Salt, Crystals and Water are at top of my Cleansing and Protecting list.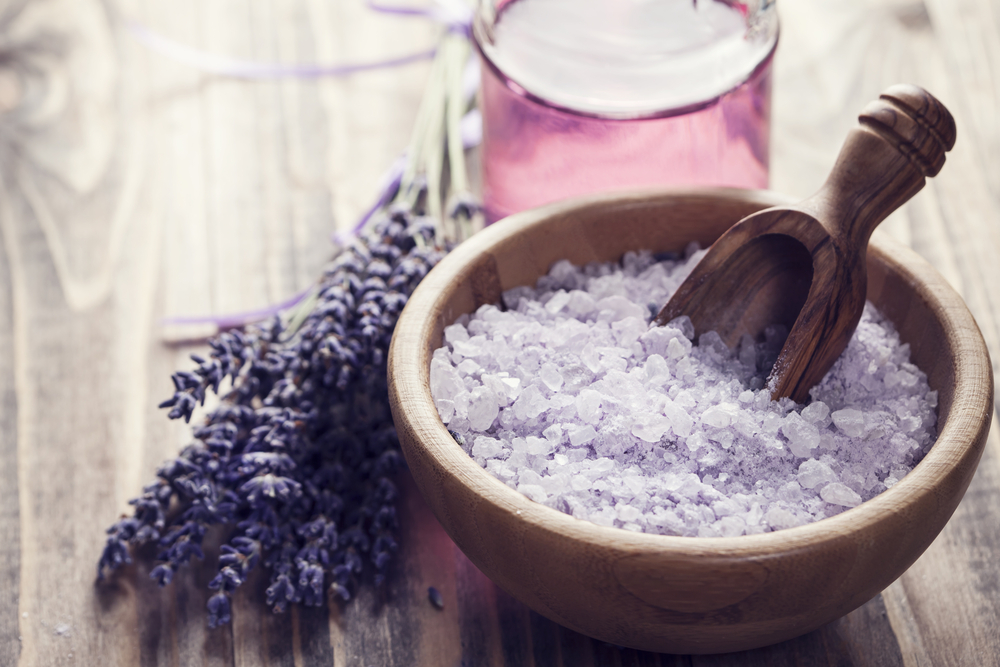 Salt, Crystals and Water
Put your Salt in a vessel (plate, jar, vase, glass, box, bowl, cup) and place your Crystals amongst the Salt. NOTE: The Salt must be dry as some Crystals like Selenite are water-soluble, so will dissolve along with the Salt.
The Salt will Cleanse the Crystals and the Salt and Crystals can be supercharged if placed on an inside windowsill under the light of a Full Moon, especially if using sea salt as the Moon governs the oceans.
Take some (not all) of the Salt and Crystals and mix in a bowl, cup, or spray bottle with Water until the Salt has dissolved. Remember to only use Crystals that are waterproof.
Then take the Salt, Crystals and Water mix and dip your fingers in then flick the solution or use the spray bottle in all corners of each room, each window and each doorway.
NOTE: Take care not to spray/flick your solution near electrical sources. You are Cleansing and Protecting areas of trapped energy in corners of rooms and the flow of internal and external energy through doors and windows.
You can draw symbols and write with wet fingers on doors, windows, chairs, pillows, clothing etc – intuitively do whatever feels right for you. This method is invisible, it dries quickly and leaves no mess behind.
As you cleanse the space, you may wish to say to yourself a mantra to support what it is you are Cleansing and Protecting. E.g. 'I Cleanse and Protect this space for all who dwell here, with love, light and abundance!'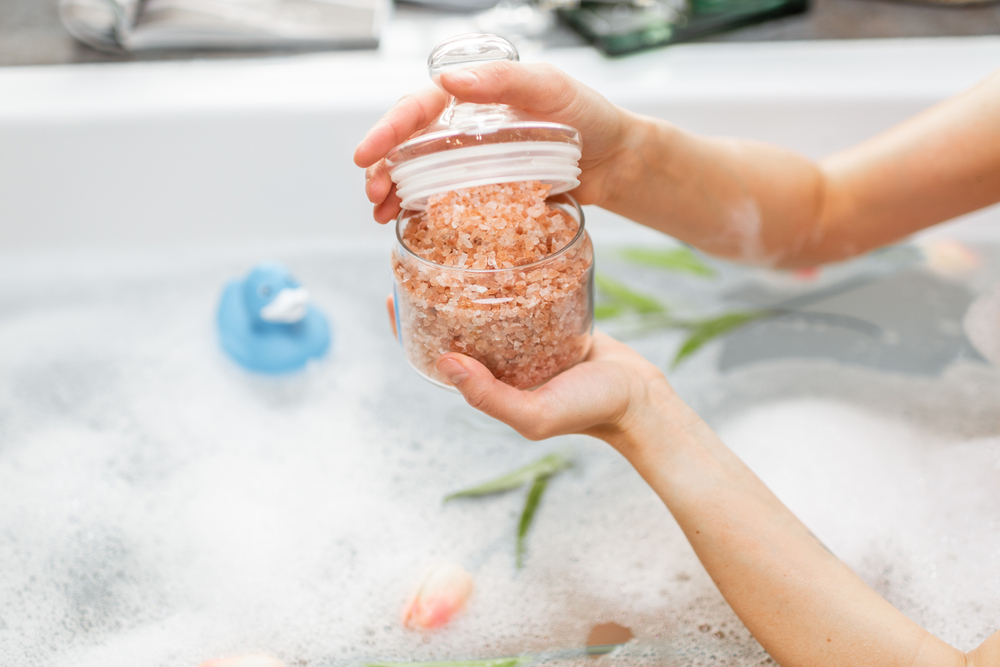 Using Them as Bath Salts
Take the remaining Salt and Crystal mix and add it to a bath for bathing yourself in. You can put the Crystals in the bath water if you wish, but the Crystal infused Salt is sufficient enough on its own.
If you prefer a shower, then either wrap the Crystal infused Salt in a flannel, a muslin cloth or even fill a sock with the mix and wash your body from top to bottom.
Bathing and washing with the Salt and Crystal mix will cleanse and protect your physical body and your Aura. If you wish, you can add further natural aromas and essences to the bathing process.
TIP: I like to use rose essences and Rose Quartz along with my Smokey Quartz and Clear Quartz Crystals when Cleansing and Protecting on a Friday, which I like to call a 'Venus Bath' which promotes love of all kinds.
In Your Home
When you have completed the above steps, position your Crystals wherever you feel is appropriate, as a continuation of the Cleansing and Protecting practice.
You can position your Crystals near a photo of loved ones, by windows and doors, where you spend a lot of time such as on your bed, on your work desk, or maybe in your pocket or bag – whatever you prefer.
To repeat the process, return the Crystals back to the Salt mix in preparation for the next practice. Repeat the above steps whenever you wish to Cleanse and Protect yourself and your personal space.
Salt, Crystals, and Water coupled with belief, purpose, and focus can aid manifestation. Cleansing and Protecting have a feel-good factor so enjoy the process. Set positive intentions and be kind to yourself and others.
Love, Light and Blessings,
Jules xxx
Speak to Jules!
Jules is a practising Psychic, Channeller, and Soul Plan Practitioner for almost 20 years. Her preferred areas to read on are Love & Relationships along with Destiny & Life Path.
You can also speak to one of our other  Trusted Psychics. Plus, you can watch us live right here!
Download our Psychic Today App now!
The Psychic Today App for all your psychic needs and get psychic readings on the go! If you haven't yet downloaded it to your mobile phone, you can do so by following our links here:
To download from the App Store – click here.
Or download it from Google Play – click here.
To top up your credit or if you have any questions or queries, our friendly reception staff are available 8:00 am to 2:00 am GMT on 0333 335 0297. You must be over 18 years old to use this service, which is for entertainment purposes only. You must be the bill payer or have the bill payer's permission. We may send free promotional messages. 
Psychic Today is Here For You!
Psychic Today is on a mission to continue providing the very best psychic advice. Now we have more ways to reach our trusted psychics and we have dedicated ourselves to answering your questions.
You can ring them via our EasyCall feature, found on your chosen Psychics profile. Text our psychics through our Text Reading page. You can also send IMs directly to the live stream via our App.
We have made it easier for you to get in contact with our psychics, and they will not disappoint!