The Numerology of Numbers
Hello All! Charnjit here, and I'm back with a summary of the numbers commonly used in Numerology. If you remember, I recently completed a series of articles exploring the different numbers in Numerology, explaining each number. To find out more about each particular number, click the links to be taken to the specific articles.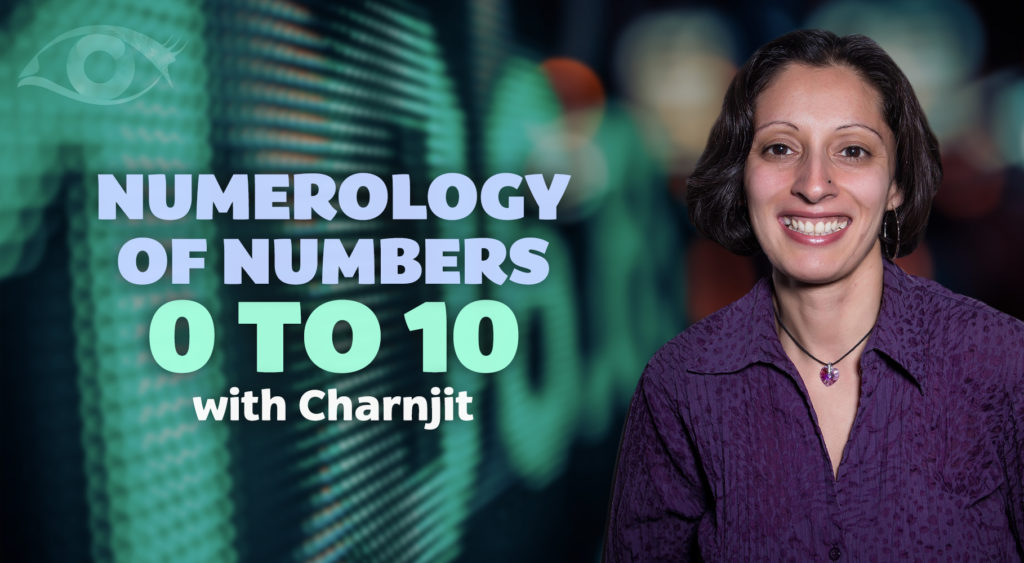 As the shape of the number, there is no beginning or end. Zero is about the whole picture, the seen and the unseen, the manifest and unmanifest. In Numerology, Zero is symbolic of the continual cycles of life. As one "ends", another begins. Zero tends to crop up in the charts of gifted people as a challenge number.
Again, like the shape of the number, One represents being upright, independent, and standing strong on its own. The number also represents leadership and beginnings. This energy needs to ground itself regularly otherwise assertiveness can become aggressiveness (like Mars, the ruler of the first sign, Aries).
Those with this number in their chart placements are skilled at planting seeds and ideas and moving on. Hanging around waiting for rewards and recognition can be a source of frustration as the next new idea needs an outlet. This will be the real reward. An endless supply of "newness".
Two is all about balance, which really is fundamental to living on the Earth plane where duality exists in so many things. If the number Two crops up in your chart, there will be a sensitivity to you, a need for balance, peaceful and harmonious relations in all dealings and environments.
Watch out for excessive desires (second chakra) as this is a sure-fire way to create imbalance. Work on "know thyself" and be kind to yourself just as much as you are to others. Healthy self-care boundaries and routines can help with soaking up too much of the atmospheric energy.
Three is a creative number. It's what fuels our passion, the fire in our belly (solar plexus chakra). It can empower or disempower depending on how we work with it and where it is in our chart. Those with the number Three in their charts are often very good at working with their hands in some way as it is a form of expression through the body.
A very social number and mostly positive, sunshine energy. Trust your gut feeling. It can be used as an aid to the decision-making process. The more you trust it, the more you can work with it for the highest good of all concerned and navigate those inevitable power struggles that we all face from time to time.
A solid, grounded, structured, reliable (some may even say boring) energy. Doing the "boring" stuff creates a solid foundation and structure from which we can springboard into the more creative, knowing that we've taken care of the details.
Tried and tested, methodical, routine – these are the words that come to mind regarding the energy of the Number Four. Looking at things from every angle, practising inclusivity, allows us to make heart centred (fourth chakra), impartial decisions.
Adventurous, curious, versatile (try anything at least once!). The number Five is one of change, positive change if we can help it; experiences, communication, and sound, just like the number Five. The lesson of the Five is to know when to stop or take a break.
Love, nurturing, community, family, small groups that feel like family. For those with the number Six in their chart, feeling at home, having a sense of belonging, either to family, community or both will be a factor in some way, shape or form.
To me, the Two and Six combinations represent love and peace. The Four and Six combos represent home and family. So, if those are the things or people you are looking for, see how and where they are placed – not only in your chart but also in those around you.
The all-knowing, quiet, introverted, introspective, analytical energy. The truth seeker. The researcher. A mystical number that connects us all – seven days of the week, seven colours of the rainbow, seven musical notes.
Another number is represented by its shape. Eight is all about the infinite flow, what you put out, flows back and vice versa. There are highs, lows and cross over points – just as in life.
When we learn to be in the flow, we can work with the natural ongoing abundance and momentum. Sometimes it may seem like things have stopped (just as retrograde planets seem to be going backwards) but the reality is there is just a change of pace. There is always something that needs to be and can be done.
Nine is the last of single digits. After nine comes ten (or One and Zero) – back to the beginning. By the time we reach the energy of the Nine we are abundant enough to be able to focus on and serve others – our cup is overflowing and there is always someone in need of help.
Nine energy asks us to focus on the masses, the world and the universe at large because in doing so we contribute to the collective which in turn clears the way for the next seeds to be planted.
In Numerology, Ten would have us think we've reached the top of our game, that's it we're all done when in reality, we're just starting over with previous experience and wisdom under our belt. We never really reach 10.
The Aces in Tarot Cards are like a gift from the universe. The Zero, or Fool Card, in tarot, is about taking that leap of faith. So, we can look at the Tens in Tarot as beginning again with renewed faith and optimism. The next chapter. 10:10 – start again.
Wishing you all love, light, truth and peace,
C xx
Connect with Charnjit – Experienced Numerology Reader
Charnjit is an exceptional Numerologist, having studied Numerology for over 15 years. Get a personal reading with her today! By providing her with your date of birth, Charnjit can use her Numerology skills to tell you what to expect and what may develop for you in the future.
You can watch Psychic Today Live!
You can watch the show LIVE between 8am and 10pm on via our website and on our YouTube channel!
Download the Psychic Today App!
The Psychic Today App has everything you need to get a psychic reading on the go! Download it using the links below:
Apple App Store – click here
Google Play – click here
To top up your credit or if you have any questions or queries, our friendly reception staff are available 8:00 am to 2:00 am GMT on 0333 335 0297. You must be over 18 years old to use this service, which is for entertainment purposes only. You must be the bill payer or have the bill payer's permission. We may send free promotional messages. 
Follow us on Facebook
Text FACEBOOK and your question to 65511 for your free reading! (Usually £1 per message, max 3 messages per reply. One per person. CS: call 0333 335 0297. UK Only) Click on the link to our page and watch our Facebook Live shows right here!